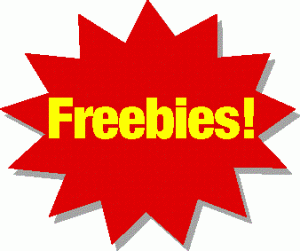 Every week, SavingsAngel vets and blogs legitimate freebies (like product samples) that are out there for the taking. We know it can make one nervous to give out information online. But let us encourage you: don't let the fear of stolen identities, potential loss of privacy, and the hounding of unwanted solicitation, keep you from your fair free share. Here are our tips to reducing your risk, and maintaining your flow of freebies to your mailbox.
Safety and Ease of Requesting:
(1) Use a reputable freebie alert program "" There are numerous companies that alert their members to available freebies. A good service will look them over before letting you know about the offer. We'd like to humbly recommend ourselves (again)"¦check out our blog for great freebies!
(2) Create a "freebie email address" "" If so inclined, thieves could easily get most, if not all, the personal information requested to process a freebie. But it is still advisable to have a separate email address just for requesting freebies.
(3) Use an automatic form filler program "" There are safe programs available that will fill in your basic information (name, address, email) automatically. This saves time, eliminates errors, and assures you will only use your "freebie email address", and not mistakenly input your regular one. Look for one that works with your privacy protection and anti-virus software, and comes recommended for safety.
(4) Stick to the good freebies "" only request freebies offered by reputable companies, via trusted sites or the manufacturer's own site(s). Always beware of anything that sounds too good to be true. If the request form asks for information you are not comfortable giving, skip it, and move on to a better offer.
(5) Skip some blanks "" When filling out freebie forms, if they are asking questions you don't want to answer, try skipping them and leaving them blank. You usually aren't required to fill in all that information "" only the information that is necessary to mail you the freebie (and a valid email address).
Freebie maintenance:
(1) Cut the clutter "" Your freebie email inbox will get a lot of mail. Periodically go through and unsubscribe from some of the email senders. Most often the unsubscribe link is at the top or bottom of the email.
(2) Organize the coupons "" To further encourage you toward a later purchase, most freebies include coupons. Have a plan to organize them for potential use. If you didn't like the product, don't hold onto a coupon for it, just pitch it.
(3) Keep them on hand "" Sample sizes are perfect for travel, trips to the park, the beach, school field trips, or other outings. Have a place you keep them, maybe even some in your vehicle, when the item is appropriate. Alternately, save them up to use in gift baskets or as stocking stuffers. Try to avoid just dropping them into a box somewhere in the house, never to be used and collecting dust.
(4) Be choosy "" Only request freebies that really interest you. This eliminates not knowing what to do with unwanted samples, brochures, and coupons.
(5) Stay consistent "" It takes a while for freebies to show up in your mailbox. But if you request them on a consistent basis, after 4 weeks or so, you'll often have those special surprises in your mailbox.