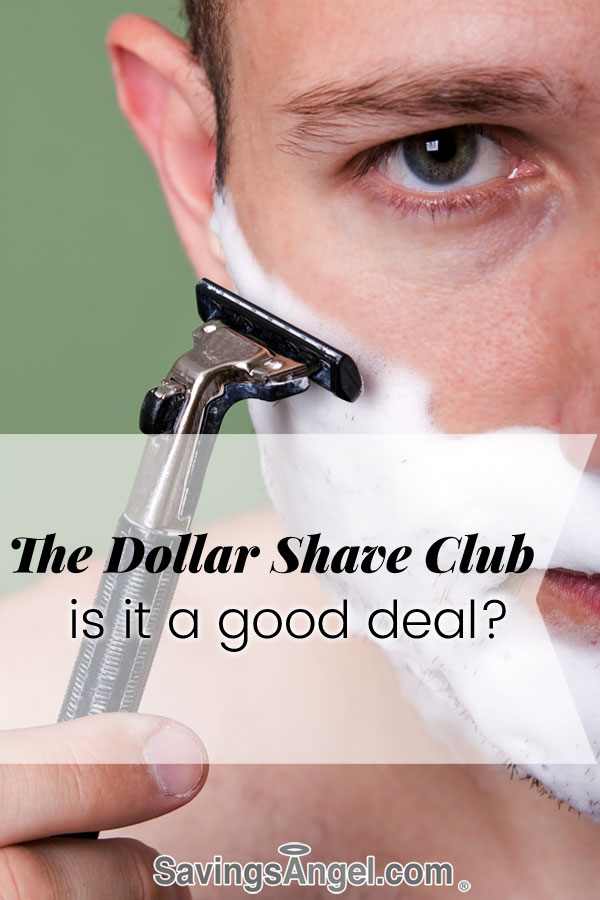 If you spend much time on the web, you've probably seen an ad somewhere for the Dollar Shave Club. Their tagline says, "Save Time, Shave Money". Since I'm all into saving both time and money, which is why SavingsAngel is so great, I was curious. At first,I thought that the Dollar Shave Club was going to be something that would help me shave dollars off my spending in addition to keeping my face baby smooth. Let me share my findings…
What is the Dollar Shave Club?
Here's the skinny according to their website. First off, it is a membership. When you sign up, you can choose from one of three different options:
For $1 per month, you get a basic shaver with a lubricating strip 2 stainless steel blades, and 5 cartridges. Then add the shipping which is an additional $2. Ok, so this is what you get for $3 a month. $36 a year
The $6 per month option gives you a shaver with the lubricating strip, 4 stainless steel blades, a full 90-degree pivoting head and 4 cartridges per month. The shipping is included on this one. So it's just the $6. $72 a year
The last option is what they call, "the final frontier". This super duper razor has 6 stainless steel blades, an Aloe, Vitamin E, and lavender lubricating strip, the full 90-degree pivoting head, and 4 cartridges per month. You get all this for $9 per month, shipping including. $108 a year
At first glance, it doesn't sound too bad if you go through a lot of razors at your house. But when I added up each option, $36 for a year, $72 for a year and a whopping $108 respectively for razors, that gave me pause. Most of the reviews I read said the highest priced Dollar Shave Club razors were comparable to the Gillette Fusion razors.Is that really a good buy considering the alternative to getting razors from my local drugstore or grocery store at SavingsAngel prices?
First, you have to determine how many razors per month you go through.
SavingsAngel Di shares,
"At our house, a good Gillette Fusion razor will last my husband, who has a fairly heavy beard, a couple of months. And I'm able to use it for some time after he's done."
For me, I can't quite make a razor last that long – but I shave every day. I go through a razor every month and a half. This is much longer than four blades per month like the Dollar Shave Club recommends – but I use a simple trick to make my razors last longer…
I dry them after each use.
It works by reducing the corrosion on the blades. There are stories of guys making blades last an entire year – but I can't seem to do that. Maybe my skin is just too sensitive – and my stubble a bit too rough. Anyway… before drying, I would have to replace my blade every two weeks – and I would always feel like I was getting so ripped off.
Using coupons it normally costs me an average of $3 for one Gillette Fusion ProGlide razor (or my preference, a premium Schick razor) without extra cartridges.Over the past 6 years with SavingsAngel, I have gotten plenty of Gillette Fusion razors for FREE – sometimes including extra cartridges. I get the deal by stacking high value coupons with great sales and money back at the register at stores like Walgreens and CVS.

Conclusion: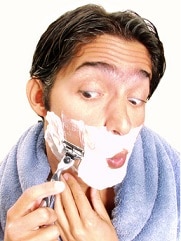 At my purchase price and usage, I spend about $26 for a year's worth of razors. My experience tells me that the Dollar Shave Club, for my family, would be an unnecessary monthly bill. The Club does offer an every other month plan and you can earn credits for referring friends which could cut down on your cost.
If The Dollar Shave Club fits your family for price and convenience, check their FAQ's, before joining just so you know what you're getting before you sign up. And while you're there, you have to watch their intro video. It's a humorous and a very clever marketing video.
Personally, for $26 a year, I'll stick with what I have been doing and that has been following the deals I get from SavingsAngel.com.