Podcast: Play in new window | Download
Subscribe: Apple Podcasts | Android | Email | Google Podcasts | Stitcher | RSS
220 – Ways You Can Prepare For Disasters – Take the SavingsAngel change your wealth mindset challenge – Make Great Memories With The Help Of Vivid Seats
For a better listening experience, listen in Apple Podcasts or Stitcher.
This post may contain affiliate links or links to sponsors of the SavingsAngel Show.
I am an extremely busy consumer expert, money-saving advocate, syndicated newspaper columnist, and the guy that turns digital entrepreneurs into media celebrities with UpMyInfluence.com. I love what I do and can't wait to get going on today's episode.S
In order to help you save more, earn more and live more abundantly on today's podcast we'll be covering:
Prepare For Natural Disasters – Now Is The Time

How To Make Great Memories With The Help Of Vivid Seats
No Time To Read? You'll Love Blinkist –  Take the SavingsAngel change your wealth mindset challenge by using our FREE 7-day trial of Blinkist.
Simply go to blinkist.com/angel to get your FREE 7-day trial.
These are my recommended reads from Blinkist that will change your wealth mindset you'll be able to cover just by using our 7-day FREE trial:
Deep Work
Eat That Frog
How to Travel the World on $50 a day
The Millionaire Next Door
Dave Ramsey's Total Money Makeover
The Richest Man in Babylon
Rich Dad, Poor Dad
You can cancel anytime.
Call the 'Natural Disasters' podcast hotline with your question or comment: 407-205-9250
Links mentioned in this podcast:
More places to keep your eye on!
Support the podcast and help an angel get their wings! Please, rate/review in Apple Podcasts or Stitcher.
I would love to have your business advertise on / sponsor this show to smart, savvy consumers, couponers, and couponing bloggers. If we can connect, I will promote your brand on the #1 Apple Podcasts shopping podcast: http://SavingsAngel.com/advertise
If you leave a review, Apple Podcasts will bump us up and introduce The SavingsAngel Show to more people. As a result, you'll help share our message of abundance with MANY others!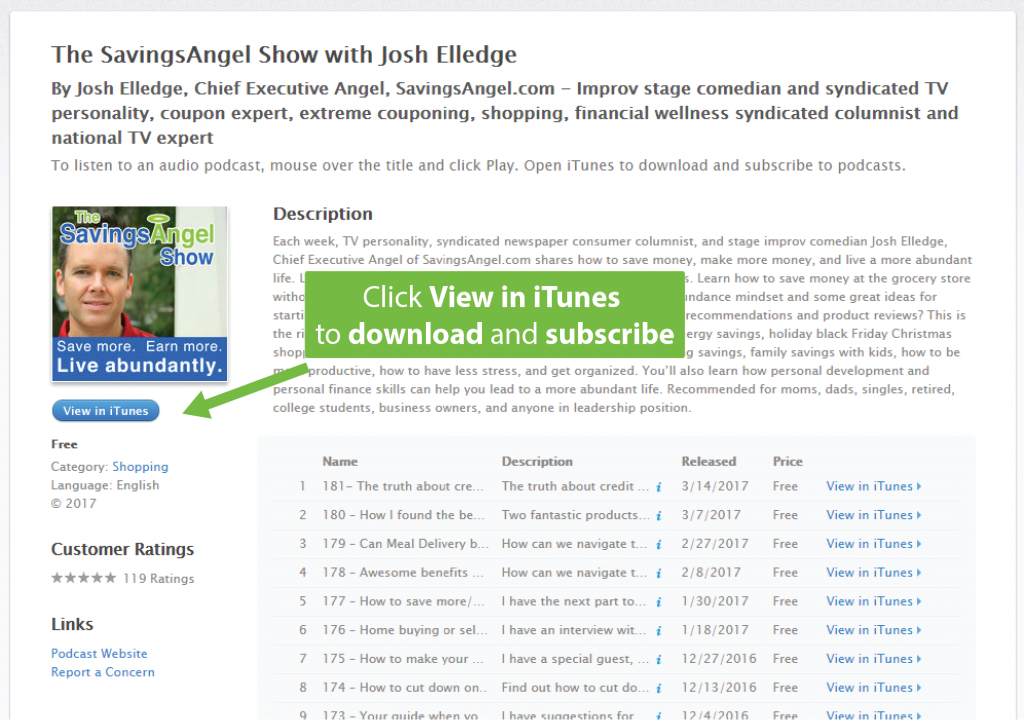 2. Click the gray subscribe button as shown here: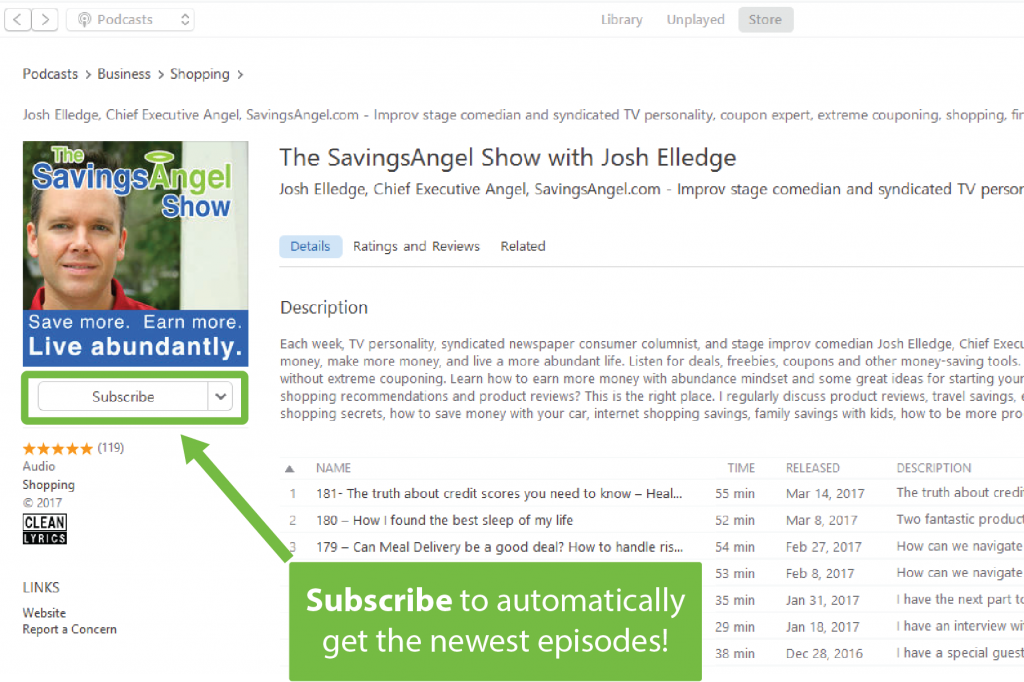 3. Help me share the message of abundance by sharing a 5-star written review: