Join our VIP Grocery Savings program (Enlightened Shopping) for $3.99/week and get our complete video library ($200 value) FREE!

[vimeo id="91460235″ mode="normal" align="center" autoplay="yes"]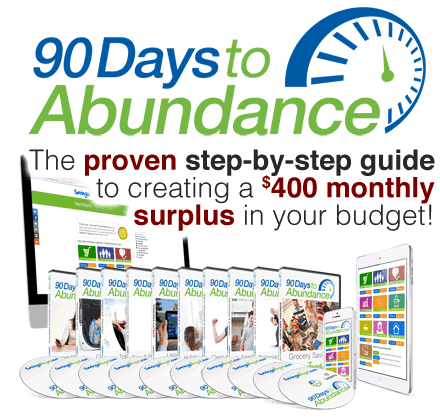 Was $200 – NOW – get them FREE with your VIP Grocery Savings System. Cut your grocery bill in HALF and

 find $200 in NEW *easy* savings each month!

"Your courses are awesome. Just watched Fam.105 and am blown away! That lesson by itself is worth the price of admission." – Jim
"WOW!… I really think this one is AWESOME! I finished it and went back for the last 30 mins. and reviewed it, writing down points to remember and discuss with my grand daughters. This is SO, SO important! Great video." – Deb
"I watched the happiness video (Patience, Stress and anxiety relief eCourse). Good info. VERY good." – Susan
"Thank you for this passionate video. It brought me to tears." – Becky
"A lot of great information!" – Julie
"Amazing! The video was wonderful." -Beth
"Fantastic! Great job! Looking forward to the next one!!!" – Amber
"I do almost all my gift buying online, but you had a couple of tips I had not heard before." – RosaLee
"I love that this video points you in the right direction for everything you need. Very helpful." – Dawn
Over the past ten years, SavingsAngel has taught millions (yes millions) of shoppers how to save money through our syndicated column, radio, and syndicated tv consumer segments. Josh Elledge is a veteran consumer expert who reveals all the secrets to saving more money (in less time) on everything you buy in this powerful video program on how to find the best deals.
Beyond just consumer savings tips, you'll learn that abundance and getting the best deal involves people. Josh Elledge will show you what no other consumer expert can teach about the language and psychology of attracting the best outcome!

The full video program includes these individual courses:
Grocery Savings

Lessons in this eCourse:
Groc.101 Are warehouse clubs worth your money?
Groc.102 Busy person's guide to grocery savings
Groc.103 Buying generic or store brand vs. brand name
Groc.104 Coupons: Most people are doing it all wrong (My 5 biggest tips)
Groc.105 Eating Healthy / Organic on a budget
Groc.106 How to get free groceries
Groc.107 How your freezer can pay you cold, hard cash
Groc.108 How your grocery store manipulates you each time you shop
Groc.109 How your pantry can pay you hundreds of dollars a month in rent
Groc.110 The Extreme Couponing scam
Family Savings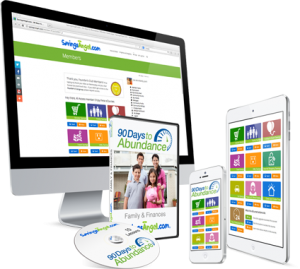 Lessons in this eCourse:
Fam.101 Baby on board? How to save on the essentials
Fam.102 Back to school means huge savings if you do it right!
Fam.103 Hot lunch or cold lunch? Prepare to be shocked by the price difference.
Fam.104 How to stop arguing about money: the number one thing that couples argue about.
Fam.105 Never say these words in front of your kids and other important financial lessons
Fam.106 Save $2000 on breakfast this year with a couple tricks
Fam.107 You're probably overpaying for pet care and pet food
Fam.108 Your child's health starts at the grocery store
Holiday & Special Event Savings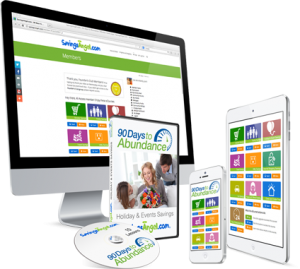 Lessons in this eCourse:
Holi/Ev.101 Double the Christmas gifts. Halve the cost.
Holi/Ev.102 Hosting the ultimate Superbowl party
Holi/Ev.103 How (and why) to do all your Christmas shopping online
Holi/Ev.104 How to be the best house on the block for Halloween
Holi/Ev.105 How to get flowers for 80% off
Holi/Ev.106 How to win at Black Friday
Holi/Ev.107 What Moms really want for Mother's Day
Holi/Ev.108 Thanksgiving dinner for less than $30
Holi/Ev.109 Watch this before giving ANY gift cards!
Holi/Ev.110 Stockings should be stuffed for free
Travel Savings

Lessons in this eCourse:
Trav.101 How professional savers buy plane tickets
Trav.102 How to stay in a hotel for half price and get a free upgrade almost every time.
Trav.103 How travel savings pros work the daily deal sites
Trav.104 Local staycations can be a phenomenal deal with these tips!
Trav.105 Road Trip? Save big money and enjoy way more vacation with these ten tips!
Trav.106 Save big bucks on all your travel dining with these tricks
Trav.107 Want to go away this weekend? No problem! Here's how to score last minute travel deals!
Trav.108 Why stay in a cramped hotel room when you can have a whole condo or house for the same (or better price)?
Utility & Energy Savings

Lessons in this eCourse:
Ut.101 Weird tricks that actually work to save on utilities
Ut.102 Low cost high tech ideas to save money on utilities
Ut.103 Ten tips to reduce your electricity bill and still stay cool
Ut.104 Turn down the temperature on your home heating budget
Ut.105 Three reasons to cut your home phone service and four reasons to keep it
Ut.106 The verdict on lightbulbs
Ut.107 Slash your water bill
Ut.108 Investigating some fatherly advice: "Shut the refrigerator door" and "Turn off the lights."
Internet Shopping Savings

Lessons in this eCourse:
Int.101 Be a master of online coupon codes
Int.102 Best websites for finding the best price
Int.103 Essential money-saving apps
Int.104 How to Find all the Best Internet Holiday Deals
Int.105 How to work the daily deal sites
Int.106 Things you should never buy online
Int.107 The ten most important tips for online shopping safety
Int.108 How to get tons of free Internet-based coupons for in-store purchases
Int.109 Save money with social media
Car Savings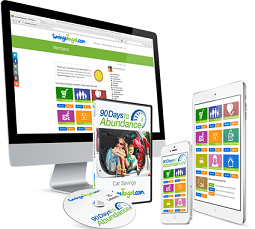 Lessons in this eCourse:
Car.101 Don't miss discounts at the pump!
Car.102 How to buy a car on Craigslist like a boss
Car.103 How to sell your car for top dollar
Car.104 Save big while road 'trippin'
Car.105 Should you (ever) lease a car?
Car.106 When to buy a car / when to keep driving your old car
Car.107 You can (and should) negotiate repairs
Patience & Stress/Anxiety Busting

Lessons in this eCourse:
Pat/Stress.101 Are kids stressing you out? Try these tips.
Pat/Stress.102 How to become a patient person
Pat/Stress.103 Running out of money before the end of the month?
Pat/Stress.104 Seven Secrets to Successful Mornings
Pat/Stress.105 The most effective ways to calm down when stressed
Pat/Stress.106 The most powerful force to create happiness.
Pat/Stress.107 Three things to do and three things to avoid right before bed
Let's Get Organized / Clean & Clutter Free

Lessons in this eCourse:
Cln/Clttr.101 Are you owned by your 'stuff'? Answer these questions.
Cln/Clttr.102 Get all your cleaning supplies for 80% off
Cln/Clttr.103 How to get your house cleaned for free
Cln/Clttr.104 How to max out your pantry profits
Cln/Clttr.105 Secrets of the most successful yard sales
Cln/Clttr.106 Stop throwing away half your food!
Cln/Clttr.107 The ten most effective ways to avoid pests
Time Management / Productivity

Lessons in this eCourse:
Time/Pro.101 Being in balance is a hoax. Here's what to do instead
Time/Pro.102 How to stop wasting time online and have more fun
Time/Pro.103 How to instantly be twice as productive
Time/Pro.104 The secrets of sleeping for maximum energy and productivity
Time/Pro.105 Want to be more productive? You'll need to do these things first!
Time/Pro.106 Five secrets of the most productive people
Time/Pro.107 Can you save time AND money at the same time? Yes€¦ if you do these four things
Thousands of families have shown that
it works.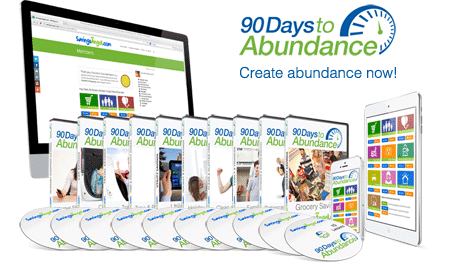 Originally sold for $200. Get all TEN video libraries for FREE with our VIP Grocery Savings System.
You'll find $200 in NEW *easy* monthly savings!