Podcast: Play in new window | Download
Subscribe: Apple Podcasts | Android | Email | Google Podcasts | Stitcher | RSS
Canary home security review – all in one security for your home, all from your phone
PLUS: Gift ideas – Mother's Day, Father's Day, graduations, weddings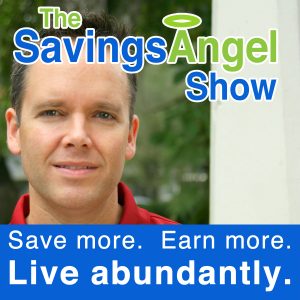 For a better listening experience, listen in: iTunes | Stitcher
I have a special interview with Canary home security – the company that lets you control your all-in-one home security system from your phone. Use the promo code SavingsAngel to receive $30 off a 2-pack!
6 gift ideas for saving money on gift-giving, including making good use of your talent, rather than your money.
5 specific gift ideas for gifts for Mom.
YNAB – that is You Need a Budget .com – thoughts on gift-giving without breaking the budget.
It's my final few days of my journey to better health and my "by May 1st" goal of losing another 20 pounds. How did I do? 
407-205-9250 Gift ideas and Canary home security podcast hotline. Show notes @ http://SavingsAngel.com/podcast.

Call the gift ideas and Canary home security review hotline with your question or comment: 407-205-9250
THANKS FOR LISTENING to our gift ideas and Canary home security review podcast!
Links mentioned in this podcast:
More places to keep your eye on!
Support the podcast. Please rate/review in iTunes or Stitcher!
[box]
"Love the advice and tips from this great podcast"
[/box]  Advertise on / sponsor this show to smart, savvy consumers, couponers, and couponing bloggers on the #1 iTunes shopping podcast: http://SavingsAngel.com/advertise
How to get the latest podcasts delivered free!
iTunes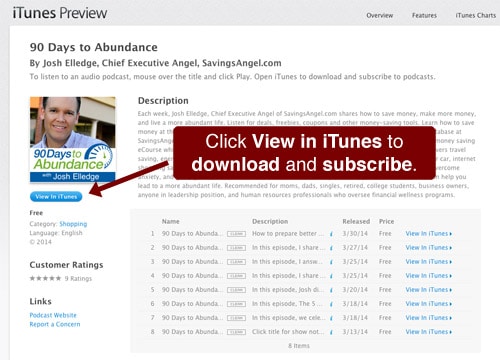 2. Click the gray subscribe button as shown here: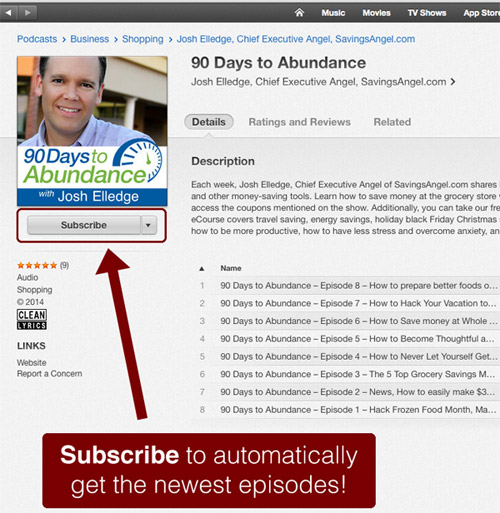 3. Help me share the message of abundance by sharing a 5-star written review: