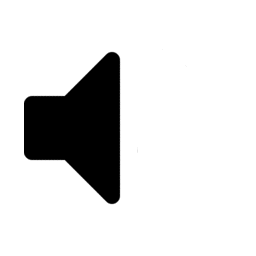 LISTEN TO THE WORLD'S MOST POPULAR SHOPPING PODCAST!
Podcast: Play in new window | Download
Subscribe: Apple Podcasts | Android | Email | Google Podcasts | Stitcher | RSS
For a better listening experience, listen in:iTunes|Stitcher
Learn how to get money back on groceries. I review Grocery shopping cash back apps: checkout 51 app, ibotta app, savingstar app, and the shopmium app. Should you use a rewards credit card to save on groceries?

Plus, I share: thinkgeek coupons, stitcher podcast, couponing podcast, godaddy promo codes, blue nile coupon codes, kmart jewelry coupon, farmland bacon coupons, nestle nesquik sample, lemons limes coupons, and a panera bread loyalty program review.

Call the podcast hotline with your question or comment:

407-205-9250
THANKS FOR LISTENING!!
Links mentioned in this podcast:
·Ibotta:Probably the best of the bunch in my opinion, Ibotta lets you earn cash rebates on everything from brand name products to staples such as milk and fruit. You do have to complete certain tasks "" such as posting to Facebook or watching an ad "" to unlock the rebate. Then you simply snap a photo of your receipt to claim it.
·Checkout 51:This app also gives you cash back for your purchases, but the number of eligible items is much smaller than that offered by Ibotta. On the plus side, you don't have to complete any tasks to unlock rebates. Simply purchase the item, snap a photo of the receipt and watch your account be credited.
·Shopmium:Like Checkout 51, you make purchases and receive a credit after uploading a photo of your receipt. The app encourages you to discover new brands so rebates are typically only available for brand name products.
·SavingStar:You don't need a smart phone to use SavingStar. They also have a website where you can open an account and clip e-coupons. Your SavingStar account is linked to your grocery rewards card, and you receive a credit whenever you meet certain purchasing requirements.
Please rate/review in iTunes or Stitcher!
[box]
Awesome podcast ***** by dbm5137 – Jun 23. 2014
As a stay at home mom who is working part-time, this podcast is exactly what I need! I am so grateful to have found Joshl! This show is packed with great information and is super helpful. THANK YOU!!
Wow!***** by DoubttheDoubts/ThePottersCast – Jun 20. 2014
What a great show. Josh is a great host and does a masterful job with his interviews. This ought to be must-listen-to podcast!!!
Live Better.***** by Shawn Murphy Work That Matters – Jun 19, 2014
Living a life that matters is important to all of us. Josh covers topics that help you do that. In his well produced podcast, Josh will help you take on living life that makes a difference for you.
Great podcast and tips *****by iswenk0D7 – Jun 6. 2014
Keep up the good work. Enjoyed the tips
[/box]
Advertise on / sponsor this show to smart, savvy consumers, couponers, and couponing bloggers on the #1 iTunes shopping podcast: http://SavingsAngel.com/advertise

How to get the latest podcasts delivered free!
iTunes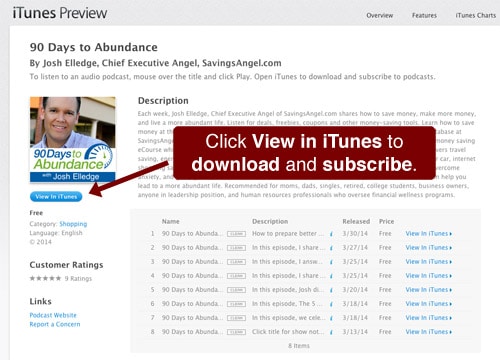 2.Click the gray subscribe buttonas shown here: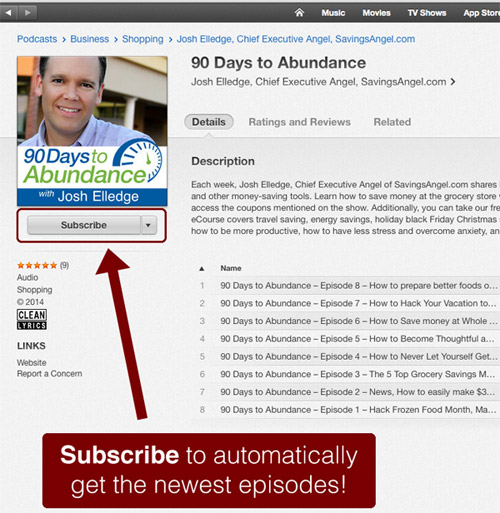 3. Help me share the message of abundance by sharing a 5-star written review: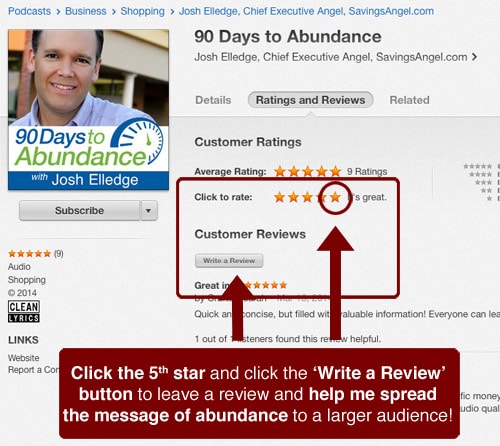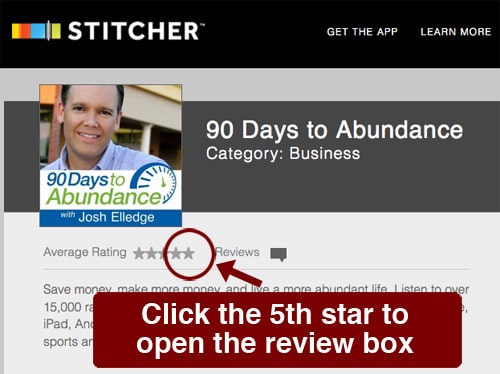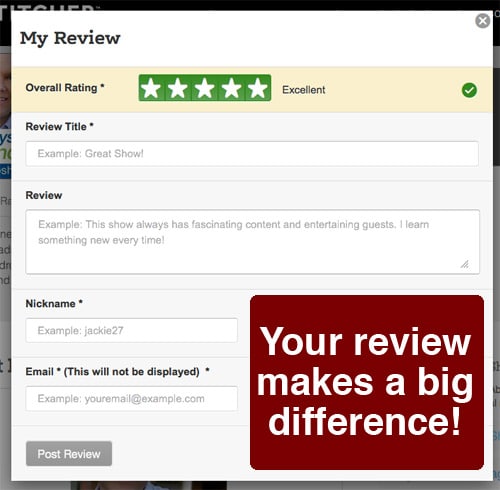 [gravityform id="14″ name="Podcast feedback"]