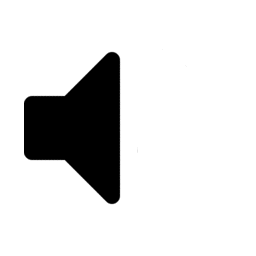 LISTEN TO THE WORLD'S MOST POPULAR SHOPPING PODCAST!
Podcast: Play in new window | Download
Subscribe: Apple Podcasts | Android | Email | Google Podcasts | Stitcher | RSS
For a better listening experience, listen in:iTunes|Stitcher
How to go back to school for 80% off!

How to get electronics for 50% off!

Summer meal ideas for staying cool.

Brace Yourselves: Back to School Sales Start Now!

How to hack refurbushed electronics sales.

Too Hot to Cook? Try These Tips Instead!

Lots of penny deals, freebies, couponing deals, sales that you can save money with
THANKS FOR LISTENING!!
Links mentioned in this podcast:
Please rate/review in iTunes or Stitcher!
[box]
Awesome podcast ***** by dbm5137 – Jun 23. 2014
As a stay at home mom who is working part-time, this podcast is exactly what I need! I am so grateful to have found Joshl! This show is packed with great information and is super helpful. THANK YOU!!
Wow!***** by DoubttheDoubts/ThePottersCast – Jun 20. 2014
What a great show. Josh is a great host and does a masterful job with his interviews. This ought to be must-listen-to podcast!!!
Live Better.***** by Shawn Murphy Work That Matters – Jun 19, 2014
Living a life that matters is important to all of us. Josh covers topics that help you do that. In his well produced podcast, Josh will help you take on living life that makes a difference for you.
Great podcast and tips *****by iswenk0D7 – Jun 6. 2014
Keep up the good work. Enjoyed the tips
[/box]
Advertise on / sponsor this show to smart, savvy consumers, couponers, and couponing bloggers on the #1 iTunes shopping podcast: http://SavingsAngel.com/advertise

How to get the latest podcasts delivered free!
iTunes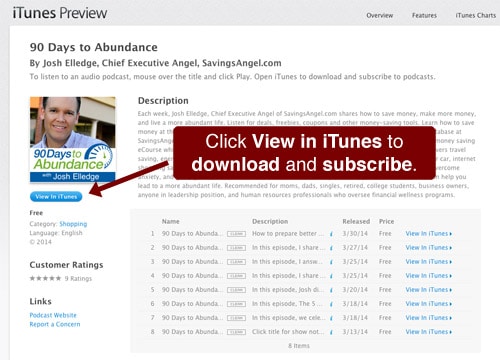 2.Click the gray subscribe buttonas shown here: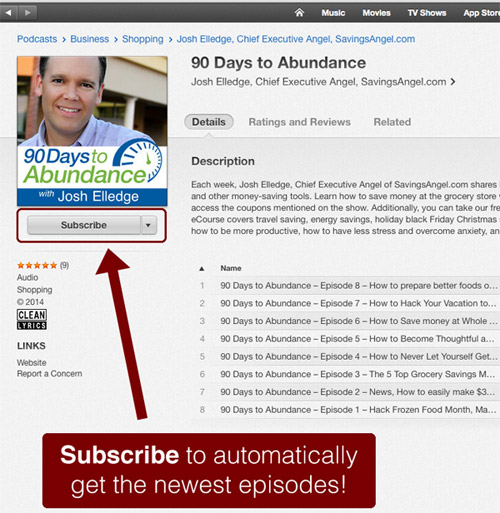 3. Help me share the message of abundance by sharing a 5-star written review: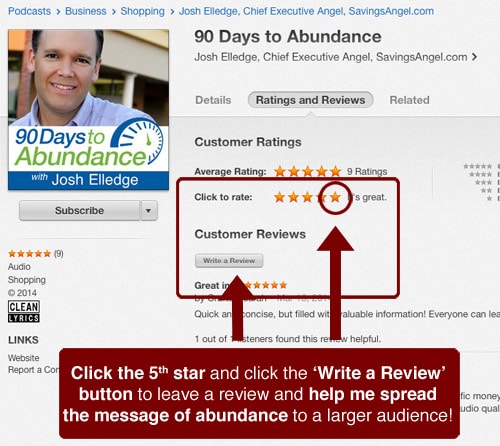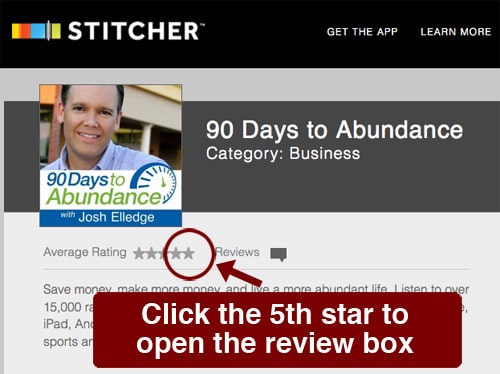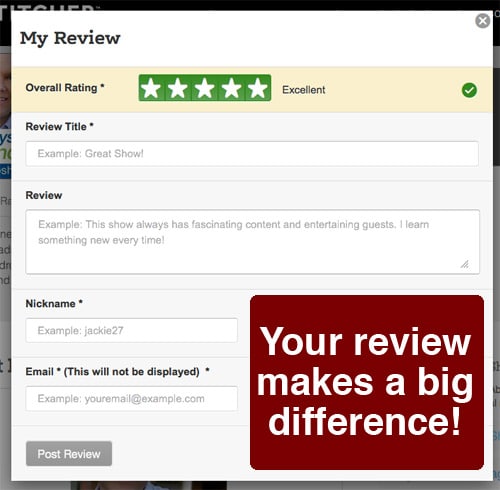 [gravityform id="14″ name="Podcast feedback"]