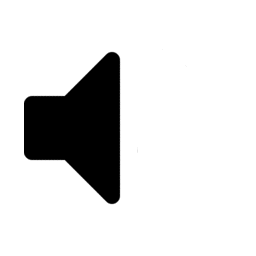 LISTEN TO THE WORLD'S MOST POPULAR SHOPPING PODCAST!
[two_third valign="top" animation="none"]
Just a few of the hundreds of stories about SavingsAngel:

SavingsAngel helping cut grocery bills in half.
[hana-flv-player video='/media/wzzm13.flv' /]
Each week, Chief Executive Angel, Josh Elledge shares savings tips and deals on Fox 35 and on News 13 in Orlando, FL. Josh also produces an abundance minute segment which is aired regularly across the country. For videos of some our latest segments and news stories, visit our YouTube page!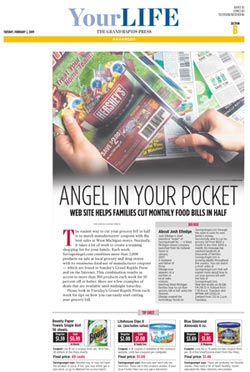 Coupon-clippers get another resource as Press teams with SavingsAngel
Saving money with coupons is exploding, and today The Grand Rapids Press joins forces with Web site SavingsAngel.com to help you cut your grocery bills.
Every Tuesday, deals of the week selected by Josh Elledge, SavingsAngel's chief executive angel, will appear in the YourLife section of The Press and on Mlive.com. The deals reflect SavingsAngel's database matching of coupons in The Grand Rapids Press with sales in local stores.
Katrina Bieniewicz, 38, of Ada, uses SavingsAngel to focus on finding items discounted 50 percent or more.
"I've probably saved $200 and $300 on my grocery bill each month," the SavingsAngel subscriber said.
She's not alone.
Coupon redemption is up 72 percent nationwide, according to… (Read More)

Savings Angel helps overseas military families
BYRON CENTER, Michigan (WZZM) – With the struggling economy, more and more people are doing what they can to save money, including clipping coupons.
No one can beat Sarah Wheeler and the hundreds of thousands of dollars of coupons she collects. But, this hero isn't even doing it for herself.
Sarah Wheeler likes to save money. But, she's not collecting all these coupons for herself. She sends them to overseas military bases. Wheeler says, "Our family's been very involved with the military. My uncle's been in the Navy for over 30 years."
Wheeler learned about the Overseas Coupon Program through fellow Savings Angel members. She says, "And I had never known that you could use… (Read More)

Web Site Promises To Cut Grocery Bills In Half
The site, called SavingsAngel.com — a subscription based Web site that claims to save you 50 percent on groceries by organizing all those coupons.
In these days of pinching pennies and tighter family budgets, we're all looking for ways to save and some are finding ways to cut their family's grocery bill in half.
It's called SavingsAngel.com — a subscription based Web site that claims to save you 50 percent on groceries by organizing all those coupons.
While it has only been available to Minnesota shoppers for a couple of months, it's saving a Minnetonka mother both time and money.
Grocery shopping is a time consuming job and a costly one, that's why Michelle Johnson is tenacious to save both.
"I've saved almost 70 percent on one particular grocery bill," Johnson proudly claims.
[hana-flv-player video='/media/wcco.flv' /]
The Overseas Coupon Program uses expired coupons to help troops and their families at home
BYRON TOWNSHIP – As a savvy bargain shopper, Sarah Wheeler doesn't like to let a good coupon go to waste — even if it's expired. The Overseas Coupon Program solves that issue.
Last spring, Wheeler, 32, of Byron Township, subscribed to SavingsAngel.com, the online database that matches manufacturers coupons with in-store sales to highlight mega savings at chain stores in Grand Rapids and eight other cities across the country. A SavingsAngel column runs Tuesday on Mlive.com/grand-rapids.
Immediately, Wheeler started scoring major deals at the checkout with coupons gleaned from multiple newspaper subscriptions.
She began stockpiling coupons but, like many bargain shoppers, found she couldn't cash in every one. So she was happy to hear about a volunteer effort to pass expired coupon savings on to U.S. troops.
She first read about the Overseas Coupon Program on the SavingsAngel message board. The volunteer effort collects recently… (Read More)

SavingsAngel subscribers click, clip and save
Coupons and the Web add up to savings for SavingsAngel.com members.
PARK TOWNSHIP — While everyone else watches their grocery bill climb, Josh Elledge swears he spends less than $200 a month to feed his family of five.
Not only that, he's building an Internet-based business by showing more than 3,000 subscribers how to cut their food bills.
They pay less than $20 a month.
"The biggest thing we teach people is to get away from shopping based on need," said Elledge.
When he shops, Elledge said, he looks for the best deals and stocks up. He never pays more than $2.77 for a gallon of milk, $1 for name brand cereal, 50 cents for shampoos, and he won't pay anything for toothpaste or shaving cream.
The secret is to combine manufacturers' coupons with store sales, and Elledge sells a service that helps shoppers do just that. It's called SavingsAngel.com.
"You can really clean up if you know what to buy and when to buy," said Elledge, 36, who lives near Holland.
"It's so addicting when you go into Walgreens and get $100 of product and pay $20. You look over your shoulder thinking, 'This is too good to be true.… (READ MORE)
[/two_third]
[one_third_last valign="top" animation="none"]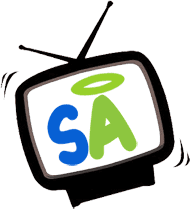 The secret to getting groceries for 60 to 90 percent off
Save money on your spring break vacation
Tips for getting value out of your freezer
Should you buy a freezer to save money?
I'd like to offer you a high-paying job
How to care for your pet and keep more of your money
Enjoy a bigger Super Bowl party for your budget
What price is the 'stock-up' price for household staples?
Turn down the temperature on your home heating budget
How to lose weight and save money
How to succeed with your money-related New Year's resolutions
How to get discount gift cards
10 ways to save money on holiday travel
6 tips for staying within your Christmas budget
Save a bundle this Thanksgiving
Making plans for Black Friday? Read this first
Is it time for a spice rack makeover?
Keeping your pantry profitable
How to shop the calendar in fall; stock up as prices rise
Why it's the perfect time for a staycation
Tips to get the most out of daily deal sites
5 tips to cut your grocery bill in half
In celebration of National Couponing Month, stop clipping coupons
Expired coupons support overseas families
How to pack lunches and save your family more than $1,000 a year
Most important organic products you can buy
Back to school means back to savings

3 reasons to cut your home phone service and 4 reasons to keep it
Back-to-school savings already have started
10 ways to reduce your electricity bill this summer
It's great to be an American when it comes to food costs
Is it a good idea to bring kids to supermarket?
SavingsAngel.com organizes 2nd Annual Day of Sharing at Michigan's Adventure
Single? Newlywed? Empty Nester? How to save big at the grocery store when you need less
How to save money on healthy foods
Feeling the pinch of higher food prices? Seven tips to save on grocery shopping
Manage your pantry to avoid food waste
Running out of money before the end of the month?
Top 10 ways to save money eating out
Stock up for spring cleaning at 60 percent to 100 percent off retail prices
10 reasons to start your own garden
How your grocery store entices you to spend more
Being prepared can make the difference for your family
10 tips for turning your freezer into a cash machine
Should you buy a a freezer to save money?
The best deal on pop may surprise you
Get 'extreme' couponing results without the extreme lifestyle seen on new TLC reality show
Investigating fatherly advice like 'shut the refrigerator door' and 'turn off the lights'
Ten money-saving tips for your Super Bowl party
Grocery prices are rising; what's your plan?
Are warehouse clubs worth the membership fee?
Start shopping like a smart business owner
Lose all the weight you want and save more money
A New Year's resolution that will work
There's a coupon for giving, too
How to get free stocking-stuffers
How to find all the best Internet holiday deals
How to save on Thanksgiving dinner
Six tips for stress-free savings at the checkout
Stop clipping coupons but keep saving money
How to get groceries for free?
Six tips for a half-price Halloween
SavingAngel.com: Print free 'money' for groceries
10 tips for saving money on produce
Food savings account is easiest 'rainy day fund' to build
Your Calendar is one of the most important secrets to saving money
Is eating out for breakfast really worth it?
Don't let summer derail your savings!
[/one_third_last]
[box]
Start your full 90-day journey and enjoy more abundance!

[one_half valign="top"]
Save $100 in the next 4 weeks guaranteed!
---
Try Enlightened Shopping and get four weeks free!
[/one_half]
[one_half_last valign="top"]
[gravityform id="3″ name="New Visitor" title="false" description="false" ajax="true"]
[/one_half_last]
[/box]