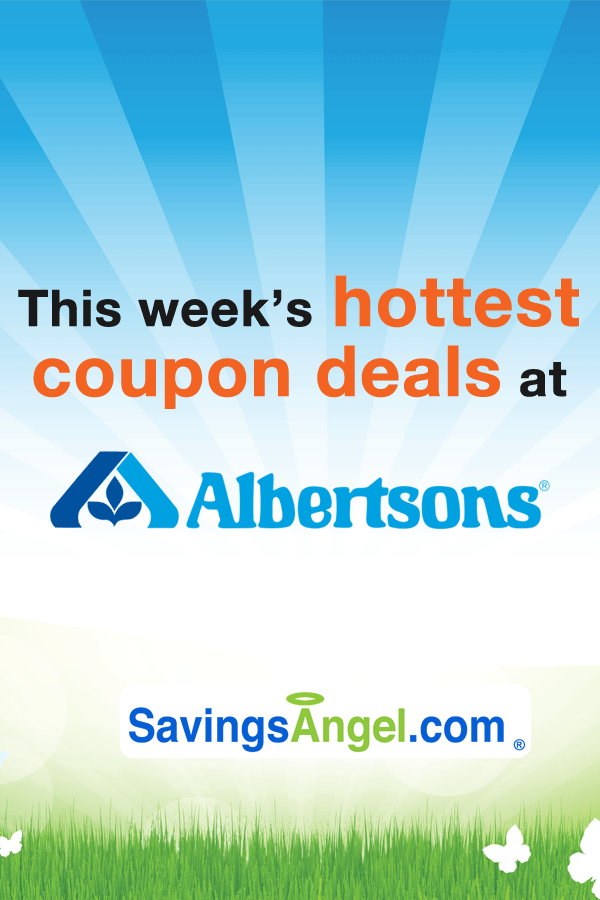 Hi! My name is Heather. I find all the Albertsons deals for you each week!
SavingsAngel tips for saving the most money at Albertsons this week:
Albertsons coupon policy states, "Your local Albertsons is the best, most accurate source of information for using coupons. Our coupon guidelines are available at the register in every Albertsons store. We don't have a blanket policy that fits every store and every market area, because your store, just like your community, is unique. Even our weekly ads are specific to your store. We're part of your community, not a chain that tries to make 'one size fit all.' So check your ads every week for specials and store offers, and read our coupon guidelines at the store the next time you shop."

These Albertsons deals run from Wednesday-Tuesday each week. Check your local store to verify sale dates.
Don't miss the items marked with a star below if you can use the product! We watch this store like a hawk and know when something truly is a special deal.
Find your local ad for Albertsons here

. You'll want to confirm your local deals are the same as what we've created for you before heading to the store. While we reference Southern California, you'll likely find the same deals in your city.
Multi-Item Deals
Mix or Match; Buy Any (5) Fab 5 Items; Save $1.00 OFF Each Item
American Beauty Pasta, 16 oz – $1.69
Includes: Select varieties
Lucerne Eggs Large Grade AA, 18 ct – $2.99
Includes: Select varieties
Nutri-Grain Cereal Bars, 7.4 – 10.4 oz – $2.99
Includes: Select varieties
Final Price: $0.99
Buy 1; Use $1.00/1 Coupon; Buy 4 Additional Participating Items; Includes Instant Savings
Post Honey Bunches of Oats Cereal, 13 – 14.5 oz – $2.99
Includes: Select varieties
Final Price: $1.24
Buy 2; Use $1.50/2 Coupon (boosted); Buy 3 Additional Participating Items; Includes Instant Savings
Beverages
Must Buy 5Includes: Select varieties
Coca-Cola, 24 pk 12 oz cans – $5.00
$5 Friday, Sale Valid June 16; Limit 3Includes: Select varieties
Pepsi Products, 24 pk 12 oz cans – $5.00
$5 Friday, Sale Valid June 16; Limit 3Includes: Select varieties
Must Buy 5Includes: Select varieties
Condiments, Spice & Baking
Kraft Miracle Whip Dressing, 30 oz – $2.99
Earn 4x Gas Reward PointsIncludes: Select varieties
Final Price: $1.99
Dairy
Fairlife Single Serve Milk, 11.5 oz – $1.00
Includes: Select varieties
Out-of-Pocket Price: $1.00
Final Price: Free
Buy 1; Includes Checkout 51 RebateSavings