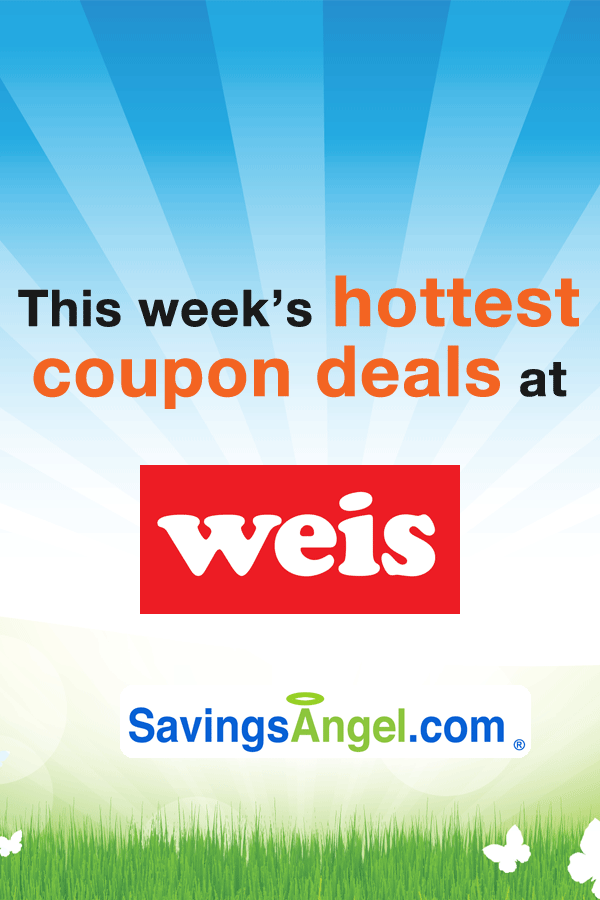 Hi! My name is CJ. I find all the Weis deals for you each week!
SavingsAngel tips for saving the most money at Weis this week:
Your Weis Preferred Shoppers Club Card offers you savings on thousands of items every day. You'll also gain access to recipe favorites, shopping lists, and money-saving programs like eCoupons and weekly specials exclusive to your store.
Weis Reward Programs
Turn your groceries into rewards with Weis Reward Points.
Earn 10 Weis Reward Points for every $50.00 you spend on qualifying purchases in a single day using your Preferred Shoppers Club Card.
Earn 10 Weis Reward Points for every 5 participating Private Brand items purchased.
Look for the Pick 5 Tag!
Earn 10 Weis Reward Points for every qualifying prescription.
Earn $0.10 in Gas Rewards Points for every $50.00* you spend in a single day at your local Weis Markets using your new Preferred Shoppers Club Card during the promotional period (you are responsible for keeping track of when the program expires).
Ten Gas Rewards Points equals $0.10 off per gallon.
Double coupons at Weis
Weis Markets offers Double Coupons in select locations to our customers, amount doubled varies by store. Please Note: Our final price descriptions are calculated using the policy of doubling manufacturer coupons up to $1.00 (i.e., $0.50 coupon doubles to $1.00 off or $0.75 doubles to $1.00 off).
Weis Markets will double up to four (4) of the same coupon.
Only four (4) coupons will be accepted on four (4) of the same product per household per day.
Weis Markets will not accept internet coupons for "Free items" or in which the value exceeds $10.
Coupons hold no cash value; therefore all negative balances must be adjusted.
Check the Weis coupon policy for other coupon details and restrictions.
You can also register to use Ibotta, Saving Star and Upromise at Weis for future savings.
These Weis deals run from Thursday-Wednesday each week.
Don't miss the items marked with a star below if you can use the product! We watch this store like a hawk and know when something truly is a special deal.
Find your local Weis Market ad here. You'll want to confirm your local deals are the same as what we've created for you before heading to the store.
Mobile users: to add these items to a printable list & print your coupons, visit this page on your desktop.
Multi-Item Deals
Buy 6, Save $3
Cheez-It Crackers, 6 – 11 oz – $1.50 – Buy 6 selected items, save $3 instantly
Must buy 6 selected items for this price
Final Price: $0.50
Buy 1; Use $1/1 coupon
Eggo Waffles, 9.7 – 12.3 oz – $1.97 – Buy 6 selected items, save $3 instantly
Must buy 6 selected items for this price
Final Price: $0.97
Buy 1; Use $1/1 coupon
Keebler Fudge Cookies, 6.6 – 15 oz – $2.00 – Buy 6 selected items, save $3 instantly
Must buy 6 selected items for this price
Final Price: $1.00
Buy 1; Use $1/1 coupon
Kellogg's Cereal, 9 – 15.5 oz – $1.99 – Buy 6 selected items, save $3 instantly
Must buy 6 selected items for this price
Final Price: $0.99
Buy 1; Use $1/1 coupon
Kellogg's Pop Tarts, 12 ct – $2.49 – Buy 6 selected items, save $3 instantly
Must buy 6 selected items for this price
Final Price: $1.49
Buy 1; Use $1/1 coupon
Kellogg's Rice Krispies Treats, 5.6 – 6.2 oz – $2.00 – Buy 6 selected items, save $3 instantly
Must buy 6 selected items for this price
Final Price: $1.00
Buy 1; Use $1/1 coupon
Baby Food & Care
Sprout Stage 3 Pouches, 4 – 4.5 oz – $1.50
Final Price: $0.75
Buy 2; Use B1G1 coupon
Beverages
Tetley Tea With Vitamins, 20 ct – $1.99
Final Price: $0.99
Buy 1; Use $1/1 coupon
Cookies, Snacks & Candy
Kellogg's Nutri-Grain Bars – $1.88
Final Price: $0.88
Buy 1; Use $1/1 coupon
Kellogg's Special K Bars, 5.28 – 10.4 oz – $1.88
Final Price: $0.88
Buy 1; Use $1/1 coupon
Dairy
Sargento Snack Cheese, 9 – 12 oz – $3.99
$0.75/1 Sargento Snack Bites Cheese Snacks – 6-11-17 SS (exp. 08/05/17)

$1.00/1 Sargento Snack Bites Cheese Snacks – 6-11-17 SS (exp. 08/05/17)
Out-of-Pocket Price: $2.99
Final Price: $1.99
Buy 1; Use $1/1 coupon; Includes Checkout 51 rebate
Pet Care
Fancy Feast Duos, 2.1 oz – $1.50
$1.00/1 Purina Package Fancy Feast Brand Cat Treats – 4-2-17 RP (exp. 07/31/17)
Final Price: $0.50
Buy 1; Use $1/1 coupon