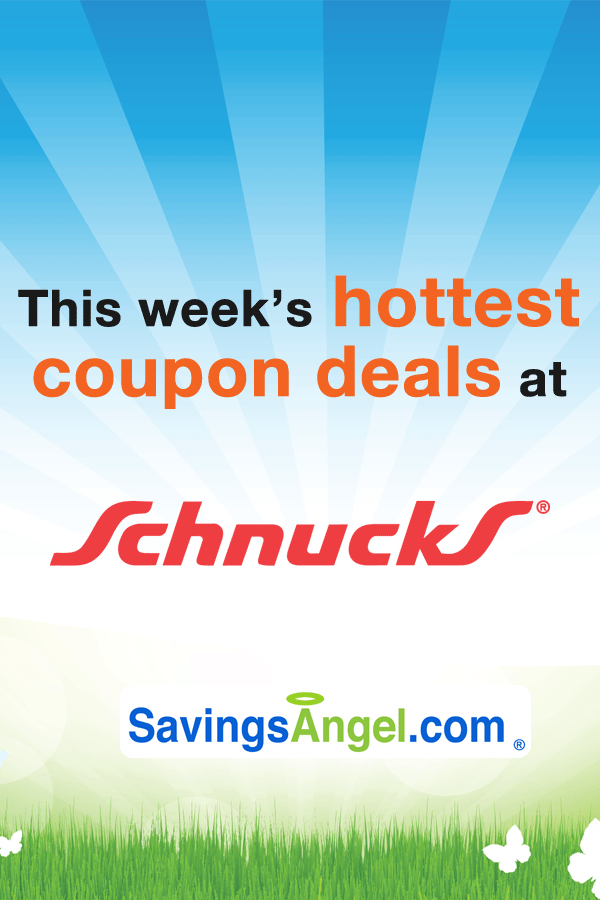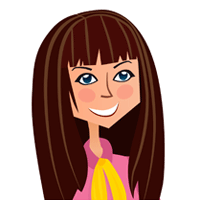 Hi! My name is Carrie. I find all the Schnucks deals for you each week!
SavingsAngel tips for saving the most money at Schnucks this week:
Know how their

coupon policy

works at your store.

In a "Buy One, Get One Free" promotion a Schnupon or printed manufacturer's coupon can be used on the item being purchased. An additional coupon cannot be applied to the second item as it is already free.

If a coupon's value exceeds the price of the item, the value of the coupon will be adjusted so it does not exceed the item's price. No refunds are given.

This list will show coupons being doubled up to $0.55. However, you will need to check with your local store to be sure of the amount your store will double on a coupon. Not all Schnucks are the same.

Schnucks doubles manufacturer's coupons but Schnupons cannot be doubled.

Schnucks accepts Schnupons, printed manufacturer's coupons (with some exceptions), printed internet coupons (with some exceptions) and coupons that are generated at the register based on specific purchases (also known as Checkout coupons).

Next, click into the Schnupons digital coupons so you can "clip" and redeem them at the checkout. Give the cashier your phone number to get your savings.

There is no limit to the number of coupons that can be clipped.

Be sure to register for a

Schnucks account

.

These Schnucks deals run from Wednesday-Tuesday each week.
Don't miss the items marked with a star

below if you can use the product! We watch this store like a hawk and know when something truly is a special deal.

Find your local ad for Schnucks

 here

.

You'll want to confirm your local deals are the same as what we've created for you before heading to the store.

Mobile users:  T

o add these items to a printable list & print your coupons, visit this page on your desktop.
Multi-Item Deals
Buy 5, Save $5
Bob Evans Family Size Side Dishes, 28 – 32 oz – $4.99
Includes: Mashed Potatoes and Macaroni & Cheese
Out-of-Pocket Price: $3.49
Final Price: $2.74
Includes Coupon, Checkout 51 and 5 participating items
Classico Pasta Sauce, 8.1 – 24 oz – $1.99
Final Price: $0.99
Includes 5 participating items
Kellogg's Cereal, 8.7 – 12 oz – $2.49
Includes: Froot Loops, Apple Jacks, Rice Krispies, Corn Pops, Frosted Flakes, Corn Flakes, Cocoa Krispies
$0.40/1 Kellogg's Froot Loops Cereal; Includes 8.7 oz or Larger Only; Limit of 4 Like Coupons in Same Shopping Trip
$0.40/1 Kellogg's Frosted Flakes Cereal; Includes 10.5 oz or Larger Only; Limit of 4 Like Coupons in Same Shopping Trip
$1.00/2 Kellogg's All-Bran,. Mueslix, Smart Start, Corn Flakes, or Raisin Bran Cereal; Includes 12 oz or Larger Only; Limit of 4 Like Coupons in Same Shopping Trip
$1.00/2 Kellogg's Corn Pops, Krave, or Apple Jacks Cereals; Boost to $1.50/2; Includes 8.7 oz or Larger Only; Limit of 4 Like Coupons In Same Shopping Trip
$1.00/2 Kellogg's Rice Krispies Cereal; Includes 9 oz or Larger Only; Limit of 4 Like Coupons in Same Shopping Trip
$3.00/5 Kellogg's Cereals; Includes 8.7 oz or Larger Only; Limit of 4 Like Coupons in Same Shopping Trip

$1.00/3 Kellogg's Cereals – 6-4-17 RP; Includes 6.7 oz or larger only (exp. 07/16/17)

$1.00/3 Kellogg's Special K, All Bran, Crispx, Frosted Mini Wheats, Mueslix, Rice Krispies, Smart Start, Raisin Bran or Corn Flakes Cereal – 5-14-17 RP; Includes 8,7 oz or larger (exp. 06/25/17)
Final Price: $0.49
Includes Coupon and 5 participating items
Kraft Macaroni & Cheese Dinner, 5 pk – $4.49
Includes 5 participating items
Lysol Disinfecting Wipes, 35 ct – $2.49
$0.50/2 Lysol Disinfecting Wipes – 5-14-17 SS; Includes 35 ct or Larger Only (exp. 06/27/17)

$0.50/2 Lysol Disinfecting Wipes – 6-18-17 SS; Includes 35 ct or Larger Only (exp. 08/01/17)
Final Price: $1.24
Includes Coupon and 5 participating items
Lysol Toilet Bowl Cleaner, 24 oz – $2.49
$0.50/2 Lysol Toilet Bowl Cleaners – 5-14-17 SS; Includes 24 oz or larger Only (exp. 07/11/17)

$0.50/2 Lysol Toilet Bowl Cleaners – 6-18-17 SS; Includes 24 oz Only (exp. 07/31/17)
Final Price: $1.24
Includes Coupon and 5 participating items
Nabisco Oreos, 10.1 – 15.35 oz – $2.79
$0.75/2 Nabisco Cookie or Cracker Products – 5-21-17 SS; Includes 3.5 oz or Larger Only (exp. 07/01/17)

$0.75/2 Nabisco Oreo Cookies – 6-18-17 SS; Includes 14 oz or Larger Only (exp. 08/06/17)

$1.00/2 Nabisco Cookie or Cracker Products – 5-21-17 SS; Includes 3.5 oz or Larger Only (exp. 07/01/17)
Final Price: $1.29
Includes Coupon and 5 participating items
Oscar Mayer Beef Franks, 15 – 16 oz – $2.99
$0.55/1 Oscar Mayer Hot Dogs – 5-21-17 SS (exp. 07/01/17)

$0.55/1 Oscar Mayer Hot Dogs – 6-18-17 SS (exp. 07/29/17)
Final Price: $0.99
Includes Coupon and 5 participating items
Perdue Short Cuts, 9 oz – $3.49
$0.75/1 Perdue Fully Cooked Product – 6-11-17 RP (exp. 07/22/17)

$1.00/1 Perdue Refrigerated Fully Cooked Products (Perdue of Perdue Simply Smart Brand) – 6-11-17 RP (exp. 07/22/17)

$1.00/1 Perdue or Perdue Simply Smart Fully Cooked Chicken – 5-14-17 RP; DND (exp. 06/30/17)

$1.00/2 Perdue Refrigerated Fully Cooked Products – 6-11-17 RP (exp. 07/22/17)
Final Price: $1.49
Includes Coupon and 5 participating items
Purina Dog Chow, 16.5 – 20 lb – $11.96
Final Price: $7.96
Includes $3.00/1 coupon and 5 participating items
Schnucks Purified Drinking Water, 24 pack 0.5 L bottles – $2.89
Snyder's Wholey Cheese Crackers, 5 oz – $2.99
$1.00/2 Snyder's of Hanover Products – 4-23-17 SS; Includes 5 oz or Larger (exp. 06/30/17)
Out-of-Pocket Price: $1.99
Final Price: $0.99
Includes Ibotta Rebate and 5 participating items
Uncle Ben's Ready Rice, 6 – 8.8 oz – $1.69
Final Price: $0.44
Includes coupon and 5 participating items
Friday, 6/16 and Saturday 6/17 ONLY
Chicken, Breasts, Boneless, Skinless, per lb – $1.69
Limit 2Sold in 3 lb bag only
KC Masterpiece Barbecue Sauce, 17 – 18 oz – $0.89
Limit 3
Schnucks Shredded Cheese, 6 – 8 oz – $1.29
Limit 3
Condiments, Spice & Baking
Ken's Steak House Salad Dressing, 16 oz – $2.00
Includes: Simply Vinaigrette
Out-of-Pocket Price: $1.25
Final Price: $0.50
Includes Coupon and $0.75/1 MobiSave Rebate