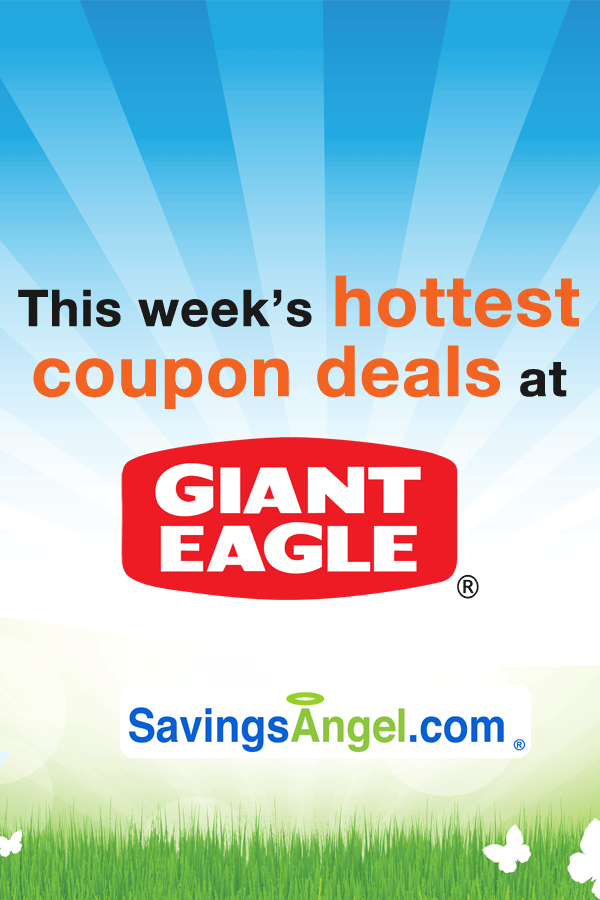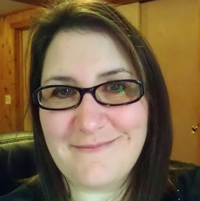 Hi! My name is Karen. I find all the Giant Eagle deals for you each week!
SavingsAngel tips for saving the most money at Giant Eagle this week:
A maximum of two like coupons will be accepted per customer, per 24-hour period.

First order of business is to sign up for Giant Eagle Advantage card at

your neighborhood Giant Eagle

or register by calling Customer Care at 1.800.553.2324.

Straight from their website the Giant Eagle Advantage card benefits you in many ways:

Register your card and email address online to receive news, special offers and promotions.

Earn free fuel with

fuelperks!®

Simply swipe your card at the register and with every $50 you spend in the store you'll earn 10¢ per gallon at GetGo®.

Load special offers from the Giant Eagle website right to your card for even more saving when you check out.

Add

eCoupons

(digital coupons) right to your Giant Eagle Advantage Card®, then redeem them automatically when you checkout.

Save on family fun, museums, your favorite stores and more with our

community savings rewards

.

A few things stand out in the Giant Eagle coupon redemption policy that you will want to be aware of like no coupon stacking. Their policy states:

Limit

one coupon per item purchased

(store coupon, manufacturer's coupon, or eCoupon).

A maximum of five (5) like coupons per customer will be accepted in a 24-hour period. Like coupons are determined by value and item featured on the coupon and must be purchased in size and quantity specified.

Transactions with more than twenty (20) coupons will not be accepted through self-checkouts, they must go through a cashier.

If you forget to use your coupons at the time of purchase, and coupons have not expired, we will accept them with your Advantage Card up to ten (10) days beyond the date on the receipt.

Printed Internet coupons: Giant Eagle DOES NOT accept the following Printed Internet Coupons "FREE with no purchase necessary" and "Buy One Get One Free" and any coupon with a value over $3 except where advertised by Giant Eagle for a specific promotion.
Giant Eagle deals run from Thursday – Wednesday each week. Check your local store to verify these deals. 

Find your local Giant Eagle ad

here

.

Don't miss the items marked with a star below if you can use the product! We watch this store like a hawk and know when something truly is a special deal.
Mobile users: to add these items to a printable list & print your coupons, visit this page on your desktop.
Double Coupons Up to 99 cents. Earn $0.20 off per gallon of fuel for every $50 you spend throughout the store.
Baby Food & Care
Buy $30 participating P&G products, Get $10 Visa prepaid card by mail
Pampers Wipes, 56 – 72 ct – $2.00
Final Price: $1.50
Buy 1, Use $0.25/1 coupon (doubled)
Breakfast & Cereal
Buy 3, Save $3 instantly
Kellogg's Cereal, 8.7 – 10.5 oz – $2.66
Includes: Select varieties
Final Price: $1.86
Buy 1 Froot Loops or Frosted Flakes, Use $0.40/1 coupon (doubled)
Canned Goods & Soups
Dole Pineapple Slices, 20 oz – $1.25
Includes: Select varieties
$0.50/2 Dole Canned Fruit – 5-7-17 SS (exp. 06/30/17)

$1.00/3 Dole Canned Fruit – 5-7-17 SS (exp. 06/30/17)
Final Price: $0.75
Buy 2, Use $0.50/2 coupon (doubled)
Condiments, Spice & Baking
Vlasic Pickles, 16 – 24 oz – $1.88
Includes: Select varieties
$1.00/2 Vlasic Pickles, Peppers, or Relish – 5-14-17 SS (exp. 07/15/17)

$1.00/2 Vlasic Pickles, Peppers, or Relish – 6-18-17 SS (exp. 08/19/17)
Final Price: $1.38
Cookies, Snacks & Candy
Nabisco Chips Ahoy! Cookies, 3.5 – 15 oz – $2.50
Includes: Select varieties
$0.75/2 Nabisco Cookie or Cracker Products – 5-21-17 SS; Includes 3.5 oz or Larger Only (exp. 07/01/17)

$1.00/2 Nabisco Cookie or Cracker Products – 5-21-17 SS; Includes 3.5 oz or Larger Only (exp. 07/01/17)
Final Price: $1.75
Buy 2, Use $0.75/2 coupon (doubled)
Nabisco Teddy Grahams, 3.5 – 15 oz – $2.50
Includes: Select varieties
$0.75/2 Nabisco Cookie or Cracker Products – 5-21-17 SS; Includes 3.5 oz or Larger Only (exp. 07/01/17)

$1.00/2 Nabisco Cookie or Cracker Products – 5-21-17 SS; Includes 3.5 oz or Larger Only (exp. 07/01/17)
Out-of-Pocket Price: $1.75
Final Price: $1.15
Buy 2, Use $0.75/2 coupon; Includes: Checkout51 rebate
Nabisco Wheat Thins Crackers, 3.5 – 15 oz – $2.50
Includes: Select varieties
$0.75/2 Nabisco Cookie or Cracker Products – 5-21-17 SS; Includes 3.5 oz or Larger Only (exp. 07/01/17)

$1.00/2 Nabisco Cookie or Cracker Products – 5-21-17 SS; Includes 3.5 oz or Larger Only (exp. 07/01/17)

$1.00/2 Nabisco Wheat Thins Snacks Packages – 5-7-17 SS; Includes 8 oz or Larger Only (exp. 06/17/17)
Out-of-Pocket Price: $1.75
Final Price: $1.15
Buy 2, Use $0.75/2 coupon; Includes: Checkout51 rebate
Dairy
Sargento Snack Bites Cheese, 6 oz – $2.50
Includes: Select varieties
$0.75/1 Sargento Snack Bites Cheese Snacks – 6-11-17 SS (exp. 08/05/17)

$1.00/1 Sargento Snack Bites Cheese Snacks – 6-11-17 SS (exp. 08/05/17)
Final Price: $1.00
Buy 1, Use $0.75/1 coupon (doubled)
Smart Balance Buttery Spread, 13 – 15 oz – $2.50
Includes: Select varieties
$0.75/1 Smart Balance Product – 4-9-17 SS (exp. 07/31/17)
Final Price: $1.00
Buy 1, Use $0.75/1 coupon (doubled)
Frozen Foods
Birds Eye Voila!, 21 – 22 oz – $3.33
Includes: Select varieties
$1.00/1 Birds Eye Viola! – 5-7-17 SS (exp. 07/07/17)
Final Price: $2.33
Home Supplies
Buy $30 participating P&G products, Get $10 Visa prepaid card by mail
Bounce Sheets, 60 ct – $3.00
Includes: Select varieties
Out-of-Pocket Price: $2.00
Final Price: $1.00
Buy 1, Use $1.00/1 coupon; Includes: Checkout51 rebate
Bounty Napkins, 100 ct – $1.67
Final Price: $1.17
Buy 1, Use $0.25/1 coupon (doubled)
Puffs Facial Tissue, 1 pk – $1.67
Out-of-Pocket Price: $1.17
Final Price: $0.42
Buy 1, Use $0.25/1 coupon (doubled); Includes: $0.75/1 Checkout51 rebate
Personal Care
VO5 Shampoo or Conditioner, 12.5 oz – $0.75
Includes: Select varieties
$0.50/2 Alberto V05 Shampoo or Conditioner – 6-18-17 SS; Includes 11 -12.5 oz Only; DND (exp. 07/16/17)
Final Price: $0.50
Pet Care
Purina Beyond Dry Cat Food, 3 – 4 lb – $8.99
Includes: Select varieties
$2.00/1 Purina Beyond Dry Cat Food – 6-18-17 RP (exp. 09/30/17)

$5.00/1 Purina Beyond Brand Dry Cat Food – 3-26-17 RP (exp. 06/30/17)
Final Price: $3.99