Blogger Affiliate Money
SavingsAngel.com has been creating partnerships with traditional media, bloggers, websites, companies, and organizations for nine years through our blogger affiliate money program. We can create written, audio, and video content on nearly any subject related to consumer savings, health and energy, productivity, and organization. We can create content especially for your organization. Just Ask!
SavingsAngel takes many years of deal-building expertise and now provides blogger tools FOR FREE!
SavingsAngel is committed to empowering those who will join us in helping families save more money with our Blogger Affiliate Money program. If you are a blogger or website owner, we've built the following tools that you can use absolutely FREE:
---
1. Free Coupon Database

We have a FREE searchable coupon database you can host on your website, complete with your branding and your print affiliate links. This would be a great addition to your blog your readers will love it and you will enjoy the extra traffic and revenue. Here are some example implementations: – Our public coupon database HERE
– LittleRockMommy This link goes straight to the database then go to her home page and notice the banner ad driving traffic to the database: http://www.littlerockmommy.com/2013/02/coupon-database.html
– SavingTowardABetterLife http://savingtowardabetterlife.com/searchable-coupon-database/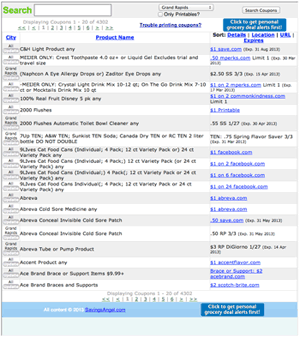 1. IT'S 100% FREE
2. Uses your printable coupon affiliate IDs so YOU earn 100% of the Blogger Affiliate Money from the coupons your readers print.
3. Includes all the major sources of printable coupons (Coupons.com, Smartsource.com, Redplum.com) plus many others:
Escalate
ImpactRadius (SavingStar)
ImpactRadius (SavingStar) SubID
ShareaSale (Checkout51)
eBay Enterprise (Target / Pepperjam)
eBay Enterprise (Target / Pepperjam) SubID
MySavings (SmartSource / RedPlum / SavingStar)
Commission Junction
Logical Media
Ibotta
SavingsAngel Affiliate
4. Includes national and many regional versions of the newspaper insert coupons
5. Updated constantly, including user feedback
6. Powerful, yet simple and fast, search capability and sortable results
7. Easy setup either iFrame, javascript widget, or direct link
a. iFrame & javascript allows complete flexibility for blogger branding and advertising for additional revenue
b. iFrame & javascript also keeps all the traffic and associated page views on your blog
c. Direct link option available for quick, non-technical implementation
8. No monthly maintenance of your affiliate links. Once you enter your affiliate numbers, it's all done automatically. Set it and forget it blogger affiliate money!
9. Optional participation in SavingsAngel affiliate program for added blogger affiliate money.
10. FREE – That's the best part so worth repeating!
Unlike some other coupon database providers, we won't "occasionally" substitute our own affiliate numbers. We honor our relationship with you and want YOU to be wildly successful. We include two small (171×35) images that mention our general savings podcast. That's it!
| | |
| --- | --- |
| | Contact us and we'll give you access to your SavingsAngel blogger control panel. |
---
2. Get all of our deal matchups for your blog

*limited time offer*

I'd like to give you ALL our matchup data (coupons+sale deals) free every week – about 30-40 stores worth that you can offer your readers and use to attract new readers.
And… you can keep 100% of the print ad revenue. All we ask is that you provide data for one store each week. This will likely take you 2 to 4 hours a week to create depending on how experienced you are at creating coupon deals.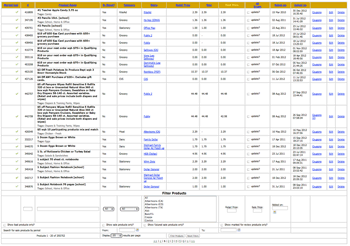 That's it.You share one store and we'll give you every store we publish.
We'll provide all the tools, data, and training you'll need. There are only so many stores – so space is limited. We already have more than 20 bloggers working with us on this. Once we get all the major grocery chains, this offer will end.

We've invested many tens of thousands of dollars to perfect our system and have developed a powerful, time-saving system to help match sales to coupons and speed up the process of preparing grocery deal lists as you earn blogger affiliate money. The bloggers we work with report how much they love it and how easy the system is – compared to more manual ways of creating deals.
If you don't have time to contribute, no problem.
You can license all 20-30 stores worth of data each week for a very low rate.
Contact Rachel if this is you
. If you've got the traffic, you can monetize with hundreds of deals and your affiliate coupon links as valuable content each week.
With this effort, we can all reduce our expenses, time invested, and we can each focus on offering better support and education for a new wave of deal seekers. Wouldn't that be fun?
Giving this information away on your blog can draw thousands of users looking for this deal information. Most people are looking for deals at THEIR store. If you only offer a couple chains, they're off to find something else. That's frustrating.
It's so silly that this data is being re-created so many times by so many different bloggers! Let's work together instead – and create better blogs, bigger followings, better deals, and more savings.
If you're open to this – or just have questions, just zip Rachel a message.
We'd be honored to help get you started – and introduce you to our amazing data managers: Barb, Mardi, and Michelle who would love to be in service with you.
Contact me

and we'll give you access to your SavingsAngel blogger control panel.
---

3. How To Start Earning Income from Your Blog with SavingsAngel.com
*Coming soon!*
Join our waiting list.
We'll let you know when we're ready to start paying you!
Our VIP Shopping Blogger Affiliate Money program is VERY popular and has strong regional appeal throughout the Midwest and the South. Our blogger affiliate money program is very exciting and growing rapidly.
Let readers know about SavingsAngel and we'll share some of the most rewarding commissions with you on the web. We believe in building meaningful partnerships – not faceless ad campaigns.
In order to get started simply request your free 10-day membership. No credit card information is required. (We will gladly extend your free membership if you need more time to write your review or if you simply want to use the service to cut your own grocery bill. Just let us know.)
Once you are enrolled, you will have your own Affiliate ID number; use it whenever you mention SavingsAngel so you get credit when others enroll. Special affiliate links and banners are available in the My Membership section to make it even easier. (Login at SavingsAngel.com then click on the 'Account' link and look for the Affiliates Area.)
Mention the website in your blog and provide at least 3 links to the website in your blog entry. Your entry must be permanent and should not be deleted in the future. You do not have to endorse SavingsAngel, just mention it, discuss it, relate to it somehow in your daily life, or even complain about it in your blog/journal entry.
Coming soon:


How does the SavingsAngel affiliate program work?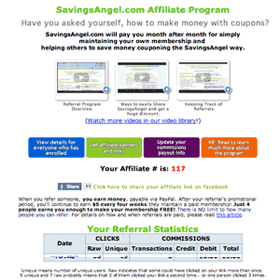 SavingsAngel members are automatically included in the blogger affiliate money program. Each member has a unique Affiliate ID number. When anyone enrolls for the SavingsAngel subscription service using that number the referring member gets credit and is paid a portion of the enrollment fee each month the new member maintains their membership.
Payouts are automatically sent via PayPal at the end of each month for all new enrollments and renewals in the prior month.
How much will I make?
Refer someone and you'll earn $10 when they enroll for our VIP Shopping membership ($3.99/week).

The total blogger affiliate money potential is unlimited and dependent on how many people you reach as well as the extent and frequency of your promotion on your blog.
Payments are made via PayPal at the end of the month following the month of the enrollment or renewal for any amount $40 or above. Smaller commission balances are carried over for you until $40 is accumulated.
Do I have to endorse SavingsAngel?
No, you do not have to endorse SavingsAngel. We'd expect you would simply give an honest opinion. You can discuss it however you want, compliment it, review it, discuss how it relates to something going on recently or in the past in your life, or even complain about it. You are encouraged to express your own honest opinion. Your blog/entry should be at least 100 words and should contain at least 1 link to the SavingsAngel.com. Endorsing the service is not a requirement and not allowed unless you have used the service and are providing an honest opinion based on your experience. You have the option of using either the provided tracking url links or just a direct link to SavingsAngel.com if you are not interested in participating in the affiliate program.
What types of Advertising are available for blogger affiliate money?
We offer 3 basic types of Sponsorship Opportunities: Blog Entries/Advertorials, Text Links, Banners ads.

Blog Entries: Write up a review on what you think of the SavingsAngel service, including one or more links to SavingsAngel with the provided tracking url.
Text Links: Place a text link in any lists of favorite websites, tools or resources or elsewhere on your blog with the provided tracking url.
Banner ads: Place one or more banner ads on your blog with the provided tracking url.

In addition you are welcome to re-post any of our fantastic blog articles found at SavingsAngel.com/blog. Be sure and include your affiliate link in any references to SavingsAngel.
| | |
| --- | --- |
| | Contact us and we'll give you access to SavingsAngel.com for free and set up your free affiliate account when we're ready to launch. |
---
SavingsAngel powers the deal-seeking web
SavingsAngel.com is a one of the largest players in the amazing movement which is taking place to fill the cups of families across the country. In so doing, we are committed to creating an army of givers. With our couponing discount outreach partners, we believe that we can end hunger and lack in our communities using our own method of extreme couponing!
We have the following organizations to thank:
Lanser Broadcasting (JQ99 / 1260 The Pledge)
Citadel Broadcasting
Clear Channel Radio
WZZM TV Grand Rapids
WWMT TV Grand Rapids
WOOD TV Grand Rapids
Fox 17 TV Grand Rapids
WHO TV Des Moines
WCCO TV Minneapolis
FOX TV2 St. Louis
Advance Newspapers
Great Deals Magazine
The Grand Rapids Press
The Detroit Free Press
Fox 35 Orlando
Herman Miller
Spectrum Health
CBS Radio
Neighborhood Savings Magazine
Value Pages
Wise Buys Magazine
Reach Magazine
Clipper Marketplace Magazine
Neighborhood Market Magazine
NUMEROUS churches and non-profit organizations
NUMEROUS Home school groups and PTAs
NUMEROUS other employers and employee groups
NUMEROUS other publications, bloggers, and websites
MOST IMPORTANTLY… OUR SAVINGSANGEL MEMBERS
| | |
| --- | --- |
| | Contact us If you or your organization would like to partner with us. |