SavingsAngel takes many years of deal-building expertise and now provides blogger tools FOR FREE!

SavingsAngel is committed to empowering those who will join us in helping families save more money. If you are a blogger or website owner, we've built the following tools that you can use absolutely FREE:


1. Free Coupon Database

We have a FREE searchable coupon database you can host on your website, complete with your branding and your print affiliate links. This would be a great addition to your blog – your readers will love it and you will enjoy the extra traffic and revenue.

Here are some example implementations:

LittleRockMommy – This link goes straight to the database – then go to her home page and notice the banner ad driving traffic to the database:
http://www.littlerockmommy.com/2013/02/coupon-database.html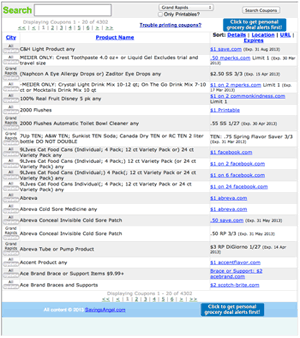 Coupon Saving In The South –uses direct link instead of an iframe
http://couponsavingsinthesouth.com/. It's under the sponsors on the right side. "Find Any Coupon"
SavingTowardABetterLife
http://savingtowardabetterlife.com/searchable-coupon-database/
1. IT'S 100% FREE
2. Uses your printable coupon affiliate IDs so you earn money from the coupons your readers print.
3. Includes all the major sources of printable coupons (Coupons.com, Smartsource.com, Redplum.com) plus many others
4. Includes national and many regional versions of the newspaper insert coupons
5. Updated constantly, including user feedback
6. Powerful, yet simple and fast, search capability and sortable results
7. Easy setup – either iFrame, javascript widget, or direct link
a. iFrame & javascript allows complete flexibility for blogger branding and advertising for additional revenue
b. iFrame & javascript also keeps all the traffic and associated pageviews on your blog
c. Direct link option available for quick, non-technical implementation
8. No monthly maintenance of your affiliate links.
9. Optional participation in SavingsAngel affiliate program for added revenue potential
10. FREE – That's the best part so worth repeating!


Unlike some other coupon database providers, we won't "occasionally" substitute our own affiliate numbers. We honor our relationship with you and want YOU to be wildly successful. We include two small (171x35) images that promote your own private label alert service (optional to set up). That's it!
Contact us and we'll give you access to

your SavingsAngel blogger control panel.
---

2. Use our state-of-the-art software to create deal matchups

Supply all your own affiliate numbers. We've got relationships with all the main coupon providers. You keep 100% of any print revenue!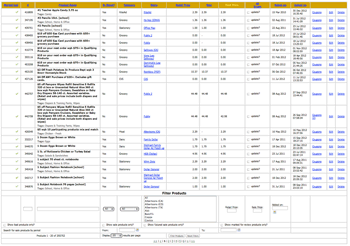 Quickly create dozens (or hundreds) of deal matchups for any store in the country using the best in industry software. We've invested many tens of thousands of dollars to perfect our system and have developed a powerful, time-saving system to help match sales to coupons and speed up the process of preparing grocery deal lists. We've decided to share this system with select bloggers. You can use it for FREE.
Create as many or as few deals as you like. We only ask that whatever you create, you also let us share with our audience if we can use it. Here's the good news... If you are creating deals that we use, we will preserve all affiliate links and YOU get the print revenue from the deals we broadcast to our audiences throughout the web. Bloggers who have used it tell us "it saves time and is more intuitive than the systems we are currently using."
After creating your list, simply copy & paste all your deals into your blog. We've got many styles to choose from - and can even create custom styles for you.

Need a WordPress plugin to allow list building for your users? No problem. We've got options for you. :)
Contact us and we'll give you access to

your SavingsAngel blogger control panel.
---

3. Earn income offering a private-label deal alert service

Offer your members the opportunity to be instantly alerted of specific deals they ask for - at just $5 a month. Everything carries your name and branding. Our alert service is a very powerful tool for increasing return traffic from your visitors. We've found that proactively reaching out to readers increases usage, traffic, recognition, and revenue for bloggers. We're happy to make all this happen for you, too!
1. Increased traffic - Because this is an iframe, all traffic stays on your site, every time they get an alert email and check on the details they go to the hosting page on your site.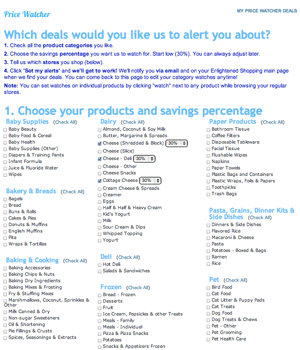 2. Increased loyalty and new followers - Because everything has your branding, including the email alerts and the pages where they set and check their alerts, you will be viewed as the source/provider of this unique service.
3. Increased revenue - You earn $3 for each new $5 member and $1 for each monthly renewal, plus $5 per month for each upgrade to VIP membership
4. Increased status in the blogger community - this service is not available anywhere else, you can be among the first to introduce it.
Others provide alerts related to sales and some have alerts for coupons but no one else provides email alerts for the best deals: match-ups of sales and coupons. Subscribers easily pick the products they use, how much they want to save and their favorite stores. They get an email when we find deals matching their criteria and never have to search for sales or coupons again! For only $5 per month they enjoy the convenience and many time-saving features enabling them to save hundreds of dollars on their grocery bills.
Now you can offer this service to your readers/followers with your branding. The sign-up page and all the alert emails display your logo. By utilizing hosted iframe technology, all the traffic stays on your site, including the enrollment and every time they get an alert email and check on the deals. Plus, our generous affiliate program pays you $3 for each new subscriber.
Your loyal followers will thank you and continue to come back to your site for all the great content you provide. They will tell their friends about the great new service and where they found it, increasing your traffic.
Implementation is simple. You create a new page on your site and direct people to it (we recommend having a tab on your home page that says "Grocery Deals"). The new page hosts the iframe url we will provide you and the page can contain whatever other branding, content, messages, ads, etc. that you desire.
Contact us and we'll give you access to your

SavingsAngel blogger control panel and set up

your own private-label deal alert service.
---

4. How To Start Earning Income from Your Blog with SavingsAngel.com

Let readers know about SavingsAngel and we'll share some of the most rewarding commissions with you on the web. We believe in building meaningful partnerships - not faceless ad campaigns.
In order to get started simply request your free 10-day membership. No credit card information is required. (We will gladly extend your free membership if you need more time to write your review or if you simply want to use the service to cut your own grocery bill. Just let us know.)
Once you are enrolled, you will have your own Affiliate ID number; use it whenever you mention SavingsAngel so you get credit when others enroll. Special affiliate links and banners are available in the My Membership section to make it even easier. (Login at SavingsAngel.com then click on the 'Account' link and look for the Affiliates Area.)
Mention the website in your blog and provide at least 3 links to the website in your blog entry. Your entry must be permanent and should not be deleted in the future. You do not have to endorse SavingsAngel, just mention it, discuss it, relate to it somehow in your daily life, or even complain about it in your blog/journal entry.
How does the SavingsAngel affiliate program work?
SavingsAngel members are automatically included in the affiliate program. Each member has a unique Affiliate ID number. When anyone enrolls for the SavingsAngel subscription service using that number the referring member gets credit and is paid a portion of the enrollment fee each month the new member maintains their membership.
This is NOT a multi-level marketing program. Affiliates are paid for direct referrals only.
Payouts are automatically sent via PayPal at the end of each month for all new enrollments and renewals in the prior month.
How much will I make?
You will earn $10 for each new $20 enrollment resulting from someone clicking on an affiliate link on your blog. An additional $5 is paid each and every month that member continues their membership, for the life of that membership. When someone enrolls with the $5 per month Express membership you earn $3. The total earning potential is unlimited and dependent on how many people you reach as well as the extent and frequency of your promotion on your blog. At the time of this writing several blogs are earning hundreds of dollars each month.
(Other introductory offers are promoted from time to time and have their own initial payouts.)
Payments are made via PayPal at the end of the month following the month of the enrollment or renewal.
Do I have to disclose I received advertising revenue from this service?
We recommend you put up some type of disclaimer or disclosure in your own words or in a graphical banner ad format somewhere on your blog that you may earn revenue from your blog from advertising products and services. For example on your "About Me" page on your blog, which is usually linked from your blog's homepage, you should mention you may receive advertising income from blog ads and links on your blog.
Do I have to endorse SavingsAngel?
No, you do not have to endorse SavingsAngel. We'd expect you would simply give an honest opinion. You can discuss it however you want, compliment it, review it, discuss how it relates to something going on recently or in the past in your life, or even complain about it. You are encouraged to express your own honest opinion. Your blog/entry should be at least 100 words and should contain at least 1 link to the SavingsAngel.com. Endorsing the service is not a requirement and not allowed unless you have used the service and are providing an honest opinion based on your experience. You have the option of using either the provided tracking url links or just a direct link to SavingsAngel.com if you are not interested in participating in the affiliate program.
What types of Advertising are available?
We offer 3 basic types of Sponsorship Opportunities: Blog Entries/Advertorials, Text Links, Banners ads.



Blog Entries: Write up a review on what you think of the SavingsAngel service, including one or more links to SavingsAngel with the provided tracking url.
Text Links: Place a text link in any lists of favorite websites, tools or resources or elsewhere on your blog with the provided tracking url.
Banner ads: Place one or more banner ads on your blog with the provided tracking url.


In addition you are welcome to post any of our fantastic blog articles found at SavingsAngel.com/blog. Be sure and include your affiliate link in any references to SavingsAngel.
Contact us and we'll give you access to

SavingsAngel.com for free and set up your free

affiliate account.
---
SavingsAngel powers the deal-seeking web
SavingsAngel.com is a one of the largest players in the amazing movement which is taking place to fill the cups of families across the country. In so doing, we are committed to creating an army of givers. With our couponing discount outreach partners, we believe that we can end hunger and lack in our communities using our own method of extreme couponing!
We have the following organizations to thank:
Lanser Broadcasting (JQ99 / 1260 The Pledge)
Citadel Broadcasting
Clear Channel Radio
WZZM TV Grand Rapids
WWMT TV Grand Rapids
WOOD TV Grand Rapids
Fox 17 TV Grand Rapids
WHO TV Des Moines
WCCO TV Minneapolis
FOX TV2 St. Louis
Advance Newspapers
Great Deals Magazine
The Grand Rapids Press
The Detroit Free Press
Fox 35 Orlando
Herman Miller
Spectrum Health
CBS Radio
Neighborhood Savings Magazine
Value Pages
Wise Buys Magazine
Reach Magazine
Clipper Marketplace Magazine
Neighborhood Market Magazine
NUMEROUS churches and non-profit organizations
NUMEROUS Home school groups and PTAs
NUMEROUS other employers and employee groups
NUMEROUS other publications, bloggers, and websites
MOST IMPORTANTLY... OUR SAVINGSANGEL MEMBERS
Contact us If you or your organization would

like to partner with us.