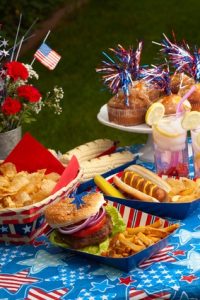 It may seem as though summer has just started, but it's already time to begin thinking about the Fourth of July.
In two shortweeks, it will be time to fire up the grill and pull out the earplugs if you're planning to get to bed early.
You want to have a good time on the Fourth of July, but trust me when I say you don't want to be in the stores that afternoon. The aisles will be packed, you'll be flustered and your budget will fly out the window.
Instead, use these tips to start planning and buying now so you'll have nothing to do on the Fourth except enjoy the day.
Head to the dollar store for decorations
If you're having company over, you may be tempted to spend the next two weeks making Pinterest-inspired Americana decor. But those crafty projects can eat up not only your time but your money too.
I'm sure people would ooh and ahh over handmade decorations, but most guests aren't going to bat an eye at dollar store decorations either. So head there and buy what you need. Remember, you only need a little red, white and blue to mark the occasion so don't go crazy shopping.
Buy your food now
Grocers are already offering deep discounts on summer time favorites. I mean, we just alerted SavingsAngel members to free Dove ice cream at Meijer last week, and I'm sure there will be more where that came from.
Keep an eye on the deals and buy what you need now rather than waiting until July. If you get burger, make your patties ahead of time and throw them in the freezer (put wax paper between each layer so they don't stick). Do the same with dogs, brats and buns "" buy and freeze now.
On July 3rd, take everything out to thaw. Meat should go in the fridge while bread can defrost on the counter. If you buy snacks like chips and ice cream, hide them from the kids "" or your spouse if need be!
Save on fireworks
The biggest Fourth of July expense for many families is fireworks.
Now, I realize for some people, fireworks are awesome. They enjoy buying them and setting them off. If fireworks on the Fourth of July are better than presents on Christmas morning, then by all means have fireworks.
Budget a specific amount and then try to make the most of that money. Maybe you could pool resources with a neighbor to have the same number of fireworks you always have but for half the cost.
In addition, fireworks might be one time you do want to be shopping at the last minute. Firework stands might be eager to unload their inventory and willing to cut you a deal.
Or skip the backyard fireworks show
Another option would be to skip the backyard show completely. If no one in your family relishes the idea of setting off fireworks or cleaning up the mess afterward, save money and go to a free show offered by a local community or neighborhood organization.
Michigan residents can head to MichiganFireworks.com for a listing of public displays being held in the state.
We have plenty of reasons to celebrate on the Fourth of July, but the holiday can't be an excuse to spend money you don't have. Plan now to keep within your budget while still making memories with family and friends.