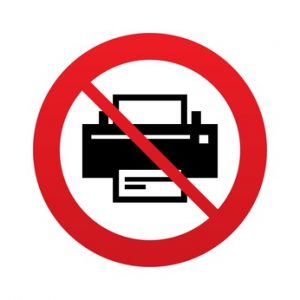 Internet printable coupons provide easy savings with a few mouse clicks. But fear of fraud and concerns over printing costs prevent some from taking advantage of them. There is no need to fear, just follow some simple rules.
For Safety's Sake:
(1) Only print from authorized coupon sources. Safe sources include:
(a) Ones SavingsAngel gives you links to, of course. (We've checked them out for you.)
(b) Manufacturer's websites, such as BettyCrocker.com, BoxTops4Education.com
(c) Genuine coupon company sites and their verified affiliates, such as SmartSource.com, Coupons.com
(d) Store websites, such as Target.com
(e) Emails sent directly from the manufacturer. Never print from an email circulating the web.
(2) Genuine coupons always have an expiration date. ("No Expiration Date" coupons are very rare and a red flag.)
(3) Most coupons display authentication areas. Coupons without this area are not necessarily fraudulent, but should be validated by other criteria.
(4) Very high coupon value should elicit careful scrutiny.
(5) Most manufacturer coupons have a print limit of 2 per computer. Be careful with coupons that allow multiple or unlimited prints.
To Save Even More:
(1) Coupons do not need to be printed in color.
(2) To conserve paper, learn the right way to turn pages around to send the blank side back through your printer.That way, when you print single coupons, you can get one on each end of the page, on opposite ends.
(3) It's okay to have other things printed on the back of your coupons. Repurpose the blank sides of white paper from other sources. However, never use pieces with personally identifiable or potentially sensitive information on them.
(4) If you own an inkjet printer, consider investing in a toner printer. Toner printers traditionally print faster and use much less ink.
(5) Switch the ink settings to a low quality. It may be labeled as grayscale, draft mode, or 300 dpi (less ink saturation).
(6) Stick to printing coupons for things you really use. When you're new to using coupons, you may think that the way to build your stash of coupons is to print every coupon you can. However, a good percentage of those coupons will probably expire before you're able use them all. You'll have wasted time, paper and printer ink.
(7) Don't print a coupon that has the same value as a digital coupon that can be attached to a store savings or rewards card or account.
(8) Use half sheets of paper when possible. To figure out if a half sheet will work for you, enable the Print Preview feature. Printing may take a little longer but if the coupon is printing at the top of the sheet, you'll know that you can use a half sheet and not miss any of your coupon print. It also helps save ink if an ad appears below the coupon.