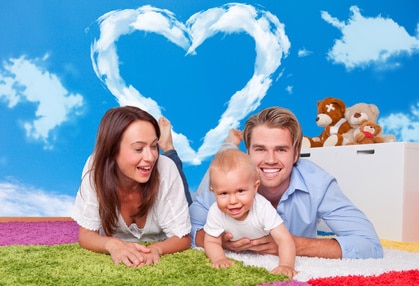 Each day, we compile the best grocery coupons here. Take a look and print all you like… for FREE!
Babies are sweet and adorable and if you are not careful, they can cost you a whole lot of money. According to the U.S. Department of Agriculture, the average middle-income married parent household spent between $12,290 and $14,320 per child on necessary expenses in 2011.
While 30 percent of that amount was for housing, the price of food, clothing and other essentials can quickly add up. Fortunately, there are plenty of ways to save money while still taking good care of your little bundle of joy.
Save money on baby food
When it comes to price, you can't beat free, and breastfeeding is the cheapest way to feed your baby. The American Academy of Pediatrics recommends mothers breastfeed exclusively for the first six months and then continue to nurse until their baby is at least a year old.
If, for whatever reason, you are formula feeding, there are plenty of ways to save there too:
Check with the hospital and your pediatrician for free samples
Sign up for formula company programs such as Enfamil Family Beginnings to receive free samples and coupons
Buy powdered formula rather than premixed varieties
Use a generic brand "" the U.S. Food and Drug Administration tightly regulates baby formula so all are manufactured to the same standards.
Once your little one starts solids, visit the websites of baby food manufacturers to sign up for their newsletters which also often come with coupons and perhaps samples.
Save money on baby clothes
Ask any experienced mom or dad, and they will confirm that little babies don't stay little for long. One common pitfall for new parents is simply buying too much, particularly in the newborn size.
Depending on the time of year and the weather in your region, you may be able to get by with a couple sleepers, some onesies and a 2-3 outfits for going out. Once you have the basics covered, stop shopping. There are so many cute baby clothes available, it is easy to get carried away and end up with a dresser full of outfits that will get only a couple months use.
You also don't have to buy new clothes to have a well dressed baby. Since infants grow so fast, it is easy to find like new outfits at thrift stores and consignment shops. In addition, put the word out to family and friends and you are likely to get offers from other parents looking to unload their stash of outgrown clothes.
Then, you can consign your baby's clothes to recoup some of the cost. If you don't have a local consignment store, there are online options such as ThredUp.com
Save money on diapers
After food and clothes, every baby needs diapers. Some parents swear by cloth diapers which are a far cry from the prefolds of years past. Today's cloth diapers don't need pins and come in a variety of adorable fabrics and prints that can almost make diaper changes feel fun. However, while cloth diapers can save money in the long run, they may require a significant initial investment.
Disposable diapers are convenient, but the cost can quickly add up if you are buying a pack or two a week. Cut your costs with these strategies:
Keep an eye open for diaper coupons in your newspaper inserts or online (we maintain a complete database at SavingsAngel.com)
Try the store brands before assuming they won't work for your baby
Consider an automatic delivery program such as the Subscribe & Save option through Amazon Mom which offers a 20 percent discount on diapers and wipes
Collect points from Pampers Gifts to Grow and Huggies Enjoy the Ride programs which can be turned in for coupons or gift items
Babies are sweet but paying big bucks to keep them fed, clothed and cared for is not. Use these smart shopping strategies to help keep your costs in check.
The best couponers save hundreds of dollars every month at the grocery store. However, couponers can end up living very extreme lifestyles to get those savings. For over five years, SavingsAngel.com has equalized the playing field "" giving extreme savings to busy families who don't have the time or ability to be a full-time couponer. Each week, SavingsAngel.com's team of more than 70 angels combines over 2,000 products on sale at local grocery and drug stores with an enormous database of over 2,000 different manufacturer coupons. These combinations result in our members getting access to over 300 products each week for 50% off or better. Simply log in, choose the deals you want, print or clip only the coupons you need, and save hundreds of dollars a month at regional and national stores. Our angels will personally work with you to craft a plan that will help you buy healthier food at lower prices "" helping you keep $200 to $400 in savings each month.