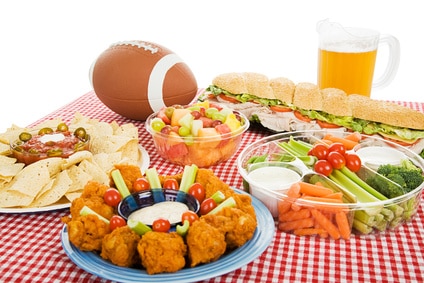 Chances are good you'll be watching the Super Bowl this Sunday. 179 million Americans are estimated to tune in to see the 49ers battle the Ravens, the half-time entertainment, and yes… all those commercials.
According to a recent survey done by the Retail Advertising and Marketing Association, "The average game watcher will spend $68.54 on new TVs for viewing parties, snacks, decor and athletic apparel, up from $63.87 last year. Total Super Bowl spending is expected to reach nearly $12.3 billion." Yes. That's billion with a "b."
RAMA also reveals that nearly three-quarters (74%) of those watching the game will buy wings, pizza, chips, soda and more for themselves or their guests. 7.5 million will buy decorations and 17 million fans will buy team apparel or accessories to support their team, up from 14.8 million last year.
99.3 million of us will either throw or attend a party which can be great fun, but can also cost a bit of money. If you want to throw a fun, stress-free Super Bowl Party with great food and great fun, I've gathered my top ten tips to make the experience memorable while staying within your budget.
1. Avoid babysitters "" which can add up when multiplied across many families. Instead, create an area just for kids in another part of the house which include football themed activities, games, fun foods for kids, etc"¦ Perhaps you could hire one teenager as a "child supervisor" rather than the multiple babysitters. With three kids of our own, creative babysitting solutions are always a welcome perk to a get together with friends.
2. Dollar stores for decorations "" or get the kids involved in football themed crafts ahead of time. If you have any green-colored Christmas decorations (tablecloth, napkins, etc"¦), you might be able to work them in. (Green is a common football-themed color). Avoid the party stores and super bowl themed decorations at larger retailers. Although decorations add a nice touch, I find it amazing how much money you can spend on paper and plastic if you pick them up while at the party, grocery or department store.
3. Do you have any other party supplies left from Christmas? I've been picking up clearance items throughout January. Some are general party-related products (or small gifts for groups of kids) and can make an early entry this year at your bowl game gathering.
4. There are a ridiculous number of coupons available for party foods. Use them!! If you like brands like Ortega, ChiChi's, Eckrich, Kraft, and other snack-related product lines, you'll be like a kid in a candy store this week "" particularly if you like all your candy at 60%-80% off. There are over 400 different items in our SavingsAngel list that you can get for over 50% off "" if you've got the right coupons. The past few Sunday editions of the newspaper have held a treasure trove of coupons for smart shoppers. Coupons are not just for families who are barely "scraping by." They are for anyone who would rather pocket an extra $400 or more each month. Technology has made it a whole lot easier to find the matches of great coupons with great sales.
5. Take advantage of great snack food deals and stock up for the future. The checker thought that my 8 bags of whole grain tortilla chips was a bit excessive "" but my family and I will eat them over the next several months "" including at any get-togethers with friends. Your freezer and pantry should include any foods you buy on a regular basis "" even if that means snack foods. Just because you have it in your home doesn't mean it needs to be eaten with any greater frequency. Our goal is to eliminate impulse and need-based shopping. I will admit, this principle is easier said than done for me when guacamole is involved. (It's my one true vice).
6. Please re-read and take advantage of numbers 4 and 5. I really want to emphasize the great opportunities there are this week for people who follow my advice regularly. The past several weeks, I've been loading up on great party treats in the freezer. This week is probably the most exciting of all. As a result of these deals, we're always prepared for an impromptu get-together.
7. Stick to soda for the drink options and ask your guests to bring anything special they'd want to drink themselves. Trying to buy for every taste can get very pricey. I recommend buying several varieties of 2-liters and get them in ice nice and early. I never pay more than a dollar for any brand name 2-liter of soda. If your store wants to charge you $1.89 for a 2-liter of pop, look elsewhere! Cans and bottles are generally never as good a deal as 2-liters.
8. Paper or plastic plates and plastic utensils can be so much easier to deal with "" but washing plates can save you a bit of money. There's also a bit less environmental impact from washing your guests' dishes "" rather than loading up the trash cans. That being said, napkins plastic utensils, and party plates are among the deals I regularly get for 60%-70% when I successfully time a coupon with a sale. Regardless of your decision, I hope you don't pay full price for these products this week unless.
9. Go with pizza. All the major chains are planning budget-friendly specials on Sunday. Papa John's, in particular, is known for their attention grabbing Super Bowl promotions. This year, you can get a free large one-topping pizza for calling the coin toss correctly athttp://www.papajohnscointoss.com/. Enter by Saturday night, and you'll receive 35% off a pizza this week.
10. Finally, If you are looking to buy a new high-definition television, before and after the Super Bowl are really good opportunities to get a great deal. This is especially true for open-box purchases next week. More than 7.5 million households (7.1%) will purchase a new TV in time for the game, compared to 5.1 million last year. Not all of these big screenbuyers stick with their purchase.
Prepare to be impressed!

In celebration of SavingsAngel's sixth anniversary, I'm giving away a $100 gift card to the grocery store of your choice and a one year's VIP full access SavingsAngel membership tothe winner of our "What can you buy for $40?" photo contest. Just head to ourfacebookpage and upload a photo by January 29th of what you were able to buy for $40 using your coupons. Impress us! If you don't want to enter "" but would like to vote on the most amazingcouponer,you can do so after all the entries have been submitted starting January 30th. Enter, vote, or read the full rules @ facebook.com/SavingsAngel.