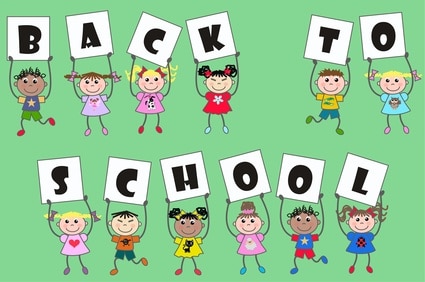 We're in the midst of the second largest shopping event of the year as shoppers flock to retailers for the best deals in fashion and other back to school supplies. With an estimated $688.62 being spend per family in preparation for the new school year (according to the National retail Federation), it's critical to spend wisely if you want to keep your budget on track. Last week, I shared four important tips to accomplishing this:
1. Check your closets and drawers before shopping
2. Shop used!
3. Buy basics rather than coordinated outfits
4. Wait until September / October and take advantage of all the clearance offers.
I'd like to share six more tips that will stretch your back to school budget:
1. Even though you might be thinking of cooler-weather shopping, you'll do your best bargain hunting among clearance summer outfits. How great it will be when, come springtime, you'll have several items all ready to go. 60-80% off bargains today plus many more in a month or two can mean spending half as much "" or getting twice the goods!
2.As soon as possible, start your "back-to-school" fund for next year. Figure out what you'll need to spend and divide by 12 (if by month) or the number of paychecks between now and next back to school season. Having the cash available is always better than juggling to make necessary expenses work. Worse yet, would be putting back to school expenses on a credit card.
3.Don't rely on your favorite store to give you the best bang for your buck. Spend 10-15 minutes sorting through the ads in your Sunday paper each week. A little detective work can ultimately save you a hundred dollars or more by ensuring you aren't missing some amazing deals on jeans, socks, shirts, and shoes.
4.While putting your list together and spying your best options at local retailers, take a look online. Nearly every retailer has coupons you can print and bring in "" or coupon codes good for other discounts in-store or online. http://SavingsAngel.com/discounts is a free coupon database that has brought me plenty of success in my own shopping. One of my favorite clothing retailer currently has over 20 coupons to choose from. In today's highly competitive retail world, never leave home without searching online for coupons first.

5.Comparison shopping online has never been easier. A search at http://shopping.google.com,http://shopping.comorhttp://pricegrabber.comis a great place to start. These sites will search across many different retailers to find the best prices "" even while factoring shipping. If you think online retailers want to sit idly by while the brick and mortar retailers get all the action, you'd be mistaken. They want a big slice of your $688.62 and are competing aggressively for it.
6.As I advise with Black Friday, do NOT get caught up in any hype surrounding "˜back to school.' There are a scant few deals in the clothing aisles that you'll have any shred of remorse if you were to miss them. Make most of your buying decisions at home with a cool head, a stack of coupons readied, and a knowledge that you've, indeed, found the best deals for your hard-earned money across all the stores competing for your shopping dollars: online and down the street.
The best couponers save hundreds of dollars every month at the grocery store. However, couponers can end up living very extreme lifestyles to get those savings. For over five years, SavingsAngel.com has equalized the playing field "" giving extreme savings to busy families who don't have the time or ability to be an full-time couponer. Each week, SavingsAngel.com's team of more than 70 angels combines over 2,000 products on sale at local grocery and drug stores with an enormous database of over 2,000 different manufacturer coupons. These combinations result in our members getting access to over 300 products each week for 50% off or better. Simply log in, choose the deals you want, print or clip only the coupons you need, and save hundreds of dollars a month at regional and national stores. Our angels will personally work with you to craft a plan that will help you buy healthier food at lower prices "" helping you keep $200 to $400 in savings each month.