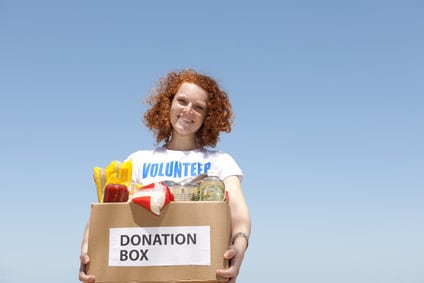 As I reflect on the first six months of 2012, I truly feel an immense sense of gratitude. I have friends or neighbors who are dealing with depression, loss of jobs, divorce, loss of loved ones or serious financial difficulties. Like my friends and neighbors, I've dealt with many stressful events in my own life. As those events took place, I searched for ways to overcome my painful feelings.
Psychologists tell us that one of the easiest ways to combat personal battles and feel better is to focus on someone else's problems. A former teacher of mine would tell me, "go and find someone to serve" if I ever mentioned I was feeling down.
In service, even battles that currently seem to haunt our every waking moment can be lessened. When we serve others, it releases our body's endorphins — our "˜feel good' hormones — and helps us think of a purpose bigger than our current problem. Magically, it seems, the world just isn't as gray.
If you, or someone you know is looking for a little more joy and color in life, one afternoon helping out a food bank, clothing distribution center, local church pantry or other nonprofit group can work wonders! They all need help and donations of food and supplies. Economic pressures and summer months can drain donation levels. Statistically, June and July are among the months that sees the lowest volume of donations, both monetary as well as physical (food, clothes and household items). Unfortunately, families are also at their busiest and time spent serving others can be in shorter supply. For nonprofits, keeping supplies and manpower up to meet demand is a challenge in summer.
If you're a fan of SavingsAngel, you may likely be blessed with extra food or household supplies (perhaps in a closet or cabinet you haven't gone through recently). Consider taking a day this week and gathering up some of your extra inventory to dropping the items off at your favorite charitable organization in person — perhaps even with members of your family. You'll be doing some good for the organization, the eventual recipient, and yourself!
The best couponers save hundreds of dollars every month at the grocery store. However, couponers can end up living very extreme lifestyles to get those savings. For over five years, SavingsAngel.com has equalized the playing field "" giving extreme savings to busy families who don't have the time or ability to be an full-time couponer. Each week, SavingsAngel.com's team of more than 70 angels combines over 2,000 products on sale at local grocery and drug stores with an enormous database of over 2,000 different manufacturer coupons. These combinations result in our members getting access to over 300 products each week for 50% off or better. Simply log in, choose the deals you want, print or clip only the coupons you need, and save hundreds of dollars a month at regional and national stores. Our angels will personally work with you to craft a plan that will help you buy healthier food at lower prices "" helping you keep $200 to $400 in savings each month.