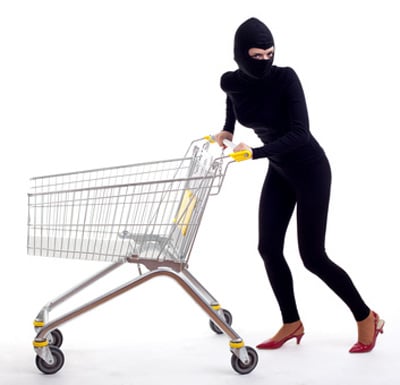 Season three of TLC's Extreme Couponing started Monday. No doubt, couponers and non-couponers alike will be tuned in for this third run. Seasons one and two have been highly controversial – showcasing couponers that knowingly broke the law by committing coupon fraud for the sake of some air time.
The coupon fraud watchdog group, The Coupon Information Corporation has taken a strong stance against the show, highlighting instances of fraud shown on the program on their website. The CIC states that they've reached out to the producers of the program to assist in enhancing the program with more accurate and realistic information concerning the activities portrayed on the show. Their offers to help have not been accepted by the show.
One example of fraud recently showcased on the program profiled a couponer who used 200 counterfeit Tide coupons to illegally obtain nearly $1,200 in merchandise from an unwitting independent retailer. A page of four Tide coupons was meant to be given to shoppers who bought a new washing machine. in case you're wondering, the extreme couponer did not purchase 50 washing machines. The coupons were, in fact, fraudulent. A retailer who accepts fraudulent coupons will not get reimbursed for those coupons – which is disheartening for this business owner.
Another Extreme Couponing episode showed a minor getting over $400 in toilet paper for free using coupons which the CIC has confirmed are fraudulent. To date, the show producers have accepted no responsibility for the actions they've promoted and profited from. Instead, they've taken the stance that they are simply "documenting real people and their extreme couponing methods. It's up to each of the couponers to follow store policy and coupon rules."
While illegal acts portrayed on tv are no stranger to what's considered entertainment, in almost every case I know of, there is generally some acknowledgement within the show that the acts may be considered illegal and not recommended. In Extreme Couponing's case, where fraud has been clearly demonstrated on several occasions, there is nothing but glory for the couponer – regardless of the ethics employed.
It should be noted that there have also been many upstanding shoppers portrayed on Extreme Couponing. Smart, ethical couponing can lead to amazing deals for honest shoppers. My website, SavingsAngel.com finds more than 300 deals for 50% off or better each week in most cities we watch. These legitimate coupon deals are the same deals that the honest extreme couponers get.
Sadly, tv and the Internet are littered with extreme couponing tactics that break the law and other terms and conditions. This hurts you and I by forcing retailers and manufacturers to raise prices for everybody. A great way to stay safe is to review the guidelines for ethical couponing at http://CouponIntegrity.com. If you are going to follow advice from online sources, stick with couponing sites that pledge to uphold those or similar standards.
The best couponers save hundreds of dollars every month at the grocery store. However, couponers can end up living very extreme lifestyles to get those savings. For over five years, SavingsAngel.com has equalized the playing field "" giving extreme savings to busy families who don't have the time or ability to be an full-time couponer. Each week, SavingsAngel.com's team of more than 70 angels combines over 2,000 products on sale at local grocery and drug stores with an enormous database of over 2,000 different manufacturer coupons. These combinations result in our members getting access to over 300 products each week for 50% off or better. Simply log in, choose the deals you want, print or clip only the coupons you need, and save hundreds of dollars a month at regional and national stores. Our angels will personally work with you to craft a plan that will help you buy healthier food at lower prices "" helping you keep $200 to $400 in savings each month.