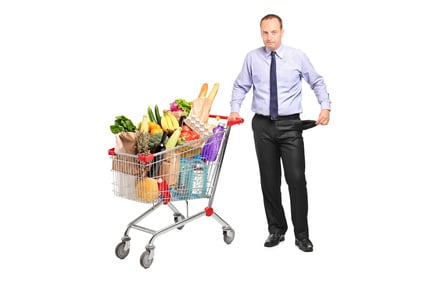 People often ask me to share advice with them on the most important thing they can do to cut their grocery bill and keep more money. Without hesitation, I urge them, "Stop buying what you need!" This sounds confusing because it flies in the face of how 95% of us shop. We typically wait until we're out of a product, add it to the shopping list, and buy it along with all the other items we absolutely need that week. Somehow, we equate leaving other products off our list as "doing without" in order to save money.
Here's the problem… without doing something different, this cycle never changes. As long as you keep shopping based on need, your budget will NEVER change.
Imagine going to a used car lot with a list of features that you need. You tell the salesman that you refuse to leave the lot until you get all the items on your list. What kind of negotiating power do you have? None! When you go into a grocery store with a list of needs, you have no negotiating power. You'll end up paying whatever the retailer asks.
What should you buy each week? Only the absolute best deals. Those best deals will come from coupon and sale combinations. When a coupon is published, generally you shouldn't rush out and redeem it. Wait until you find the best sale to apply it to. Our website, SavingsAngel.com, has helped many tens of thousands of shoppers know exactly when the best timing is to redeem coupons resulting in groceries for pennies on the dollar. When you get a great deal, stock up! Soon enough, you'll start to build a great supply of products at home.
As you get started, you might have to put off buying some products for a couple weeks until you can find a great sale / coupon combination. You can get a very good deal on almost anything once or twice in a typical 12-week grocery sale cycle.
After a few months of buying only the best deals, you'll easily have most of what you need… in your OWN pantry! You won't need anything except for fresh produce and milk each week. This is when the magic happens. From this point on, you should easily be able to spend HALF of what you originally spent to feed and care for your family. Most families' "need-list" will shrink to less than $100 a month – with the rest of the budget used for buying only the best coupon/sale combinations. Twelve weeks invested in changing your shopping habits will reap many years of financial benefit.
The best couponers save hundreds of dollars every month at the grocery store. However, couponers can end up living very extreme lifestyles to get those savings. For over five years, SavingsAngel.com has equalized the playing field "" giving extreme savings to busy families who don't have the time or ability to be an full-time couponer. Each week, SavingsAngel.com's team of more than 70 angels combines over 2,000 products on sale at local grocery and drug stores with an enormous database of over 2,000 different manufacturer coupons. These combinations result in our members getting access to over 300 products each week for 50% off or better. Simply log in, choose the deals you want, print or clip only the coupons you need, and save hundreds of dollars a month at regional and national stores. Our angels will personally work with you to craft a plan that will help you buy healthier food at lower prices "" helping you keep $200 to $400 in savings each month.