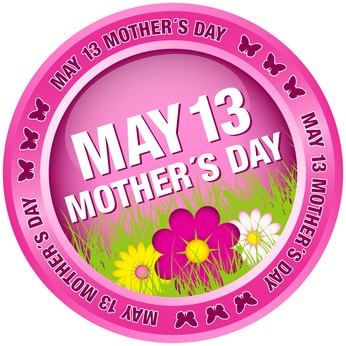 This Mother's Day, you can give twice the gift if you'll use some shopping savvy. In 2012, there are more ways to save while giving a great Mom's Day gifts than ever before. Web retailers and daily deal sites are leading the charge.
To give you an idea of what you can get (if you'll hurry) below is a list of Mother's Day deals that have been available the past couple days. Depending on the deal site and city, they may still be available right now – but the best way to be sure is to check your city at our free Daily Deal Watcher: http://savingsangel.com/deals/. I developed this page myself because I was getting tired of getting inundated with 10-20 daily deal emails each morning. It's a great tool when you need to buy a gift for a special occasion – such as this upcoming Sunday!
Need something special for Mom? How about:
$50 worth of fresh flowers for $25

$7 for a 2-year magazine subscription to Better Homes and Gardens, Eating Well, EveryDay with Rachael Ray, Family Circle, FamilyFun, Fitness, Ladies' Home Journal, Midwest Living, More, Parents or others.

$70 to spend on a Vermont Teddy Bear for $35

$60 worth of organic foods or supplements for $20

$40 of prepared foods for $20

$20 for 2 Hours of Bowling for 5 ($45 Value)

$60 worth of mineral makeup for $29

$25 of flower vases for $12.

$99 for 3 facials, neck and shoulder massage and hand treatments

$40 worth of Gourmet Caramels for $20

$15 for $35 Worth of Natural Skin and Hair Products

$48 Food Network Recipe manager for $10

Your digital photos printed on canvas for up to 74% off

Plenty of half-priced hotel stays, spa treatments, cosmetics, jewelry deals, restaurant deals, and clothing deals
As you can see, there are plenty of deals available. However, given the timing, you may end up delivering a notification of the soon-to-be-arriving gift – or consider printing out the actual daily deal gift certificate for the Mom in your life. Whether you present a personal note explaining the gift you'll be redeeming for them – or present the actual daily deal certificate, make sure it's printed upon and displayed with some fancy paper or original kid-art, and accompanied by a nice card. Most stationary, card, craft, or gift shops will have some options for properly presenting a gift certificate for Mom.
Flowers are another important part of Mother's Day. It's actually a busier holiday than Valentine's Day for most florists. Using a daily deal, a $25 or more discount on flower delivery will likely put you into greater savings territory than contacting a random florist while providing the same quality. However, if you don't mind a little effort, and you or a friend are a business owner, do a search to find if you have a floral wholesaler nearby. I've been able to put together a $140 bouquet of roses for less than $40 by arranging, cleaning and delivering them myself.
If a floral wholesaler isn't an option, your next best option is to purchase from a "˜big-box' retailer but make sure you know their delivery schedule. Arriving early on Saturday or Friday can ensure that your flowers look better than the ones that get left for those who wait until the last minute.
The best couponers save hundreds of dollars every month at the grocery store. However, couponers can end up living very extreme lifestyles to get those savings. For over five years, SavingsAngel.com has equalized the playing field "" giving extreme savings to busy families who don't have the time or ability to be an full-time couponer. Each week, SavingsAngel.com's team of more than 70 angels combines over 2,000 products on sale at local grocery and drug stores with an enormous database of over 2,000 different manufacturer coupons. These combinations result in our members getting access to over 300 products each week for 50% off or better. Simply log in, choose the deals you want, print or clip only the coupons you need, and save hundreds of dollars a month at regional and national stores. Our angels will personally work with you to craft a plan that will help you buy healthier food at lower prices "" helping you keep $200 to $400 in savings each month.