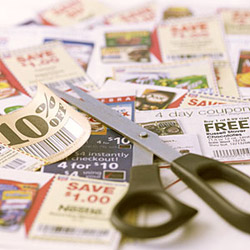 This month, you can try SavingsAngel for just $5. We guarantee your success.Click here to learn more and start saving hundreds each month.

One of my favorite parts of my work is sitting down and talking with women and men who are shopping for their families. I visit with families that shop the sales and seldom buy a product unless it's on sale. I think that's great they do this. I also visit with families who use coupons on the products they regularly buy. I think using coupons is great. However, savings "˜magic' truly comes from applying your very high value coupons on top of your great local sales while taking advantage of all the other savings opportunities that exist. These savings combinations are how we calculate most of the 60%-80% off products each week.
One of the most surprising things people learn when they start shopping with SavingsAngel is that they can apply more than one coupon or discount on a single product. Although this concept is a bit confusing at first, it helps to understand the different categories of discounts:
1. Store Sales
Usually listed in a store's weekly ad.
2. Manufacturer Coupons
Most are available in your Sunday newspaper or online. However, you find coupons just about anywhere.
3. Store Coupons
Usually listed in a store's weekly ad or monthly coupon flyer/book.
4. Register Rewards / Extra Care Bucks / Catalinas
Coupons that print out at the register worth money off your next transaction at that store.
5. Manufacturer Rebates
These can be found in many locations. This usually involves filling a form out online or mailing your receipt and a small filled-out form. In exchange for this effort, the manufacturer will send you a check for a percentage of (or often the full value) of a product several weeks later.
6. Store Rebates
More often than manufacturer rebates, you can receive money back by entering your receipt and personal information online.
7. Other promotions / incentives
Receive discounts on other products for your purchases. (e.g. buy $25 of a product line and get $10 off a new DVD)
How to "˜stack' discounts.
You can only use one discount per available discount category on a product.Exceptions are very rare. For example, you cannot use two .50 manufacturer coupons on the same item. It will say "One coupon per purchase." You can, however, buy two items with two separate manufacturer coupons.
The secret to big savings: "˜stacking' from the different discount categories on the same product! Not too long ago, I "purchased" two Pledge products for free. Normally $4, it was on sale for Buy 1 Get 1 Free ($2 each). I also used a store coupon for $2 on 2 off. Finally, I had manufacturer coupon for another $2 on 2 off. Because the discounts were all from different discount categories, I was able to use all of them at the same time resulting in free groceries. You can watch an in-store video of me getting this product for free (along with some other amazing coupon/sale combinations) at http://sa2.me/video.
Once you are an "Enlightened Shopper," a sale plus a coupon will be the baseline that you will build from. Most weeks at drugstores like CVS and Walgreens, I can get several free items as I apply my manufacturer coupons with a store coupon or store sale and get cash back at the register in the form of a Register Reward or Extra Care Bucks.
Finding and applying multiple discounts can take a little bit of time to arrange. But, when you are turning your coupons into free food and household products for your family, you'll find it well worth the effort.
The best couponers save hundreds of dollars every month at the grocery store. However, couponers can end up living very extreme lifestyles to get those savings. For over five years, SavingsAngel.com has equalized the playing field "" giving extreme savings to busy families who don't have the time or ability to be an full-time couponer. Each week, SavingsAngel.com's team of more than 70 angels combines over 2,000 products on sale at local grocery and drug stores with an enormous database of over 2,000 different manufacturer coupons. These combinations result in our members getting access to over 300 products each week for 50% off or better. Simply log in, choose the deals you want, print or clip only the coupons you need, and save hundreds of dollars a month at regional and national stores. Our angels will personally work with you to craft a plan that will help you buy healthier food at lower prices "" helping you keep $200 to $400 in savings each month.
Josh Elledge is the Chief Executive "Angel" of SavingsAngel, Inc. "" launched from his Holland, Michigan home in January 2007. A husband and father of three, he now appears on television, in many newspapers, and a number of radio stations across the country each week teaching families how to cut their grocery bill in half using the Internet. Elledge created the technology found on SavingsAngel.com through the need to save his own family's money. Successfully able to cut his own family's grocery bill from $600 a month to less than $300 a month, his message has reached hundreds of thousands of families. SavingsAngel.com is now growing rapidly throughout the country. You can watch a short video at SavingsAngel.com that will explain more information about how to cut your own grocery bill in half with the help of SavingsAngel.com.
This month, you can try SavingsAngel for just $5. We guarantee your success.Click here to learn more and start saving hundreds each month.