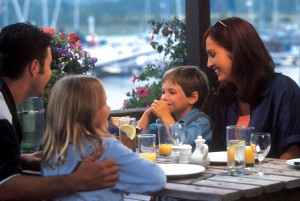 This month, you can try SavingsAngel for just $5. We guarantee your success.Click here to learn more and start saving hundreds each month.
Spring break is around the corner for many of us and summer vacations are not too far away. It's great to get away, but if you've got kids in tow, it's easy to "˜eat up' your vacation budget when you've got mouths to feed. A simple breakfast at a local sit-down restaurant could set you back $40. Lunch can cost about the same while dinner is at least as much. All told, you could be blowing through $120-$140 a day just in food.
When my dear family and I plan a vacation, usually the first thing we look at are the attraction expenses (perhaps tickets to Cedar Point). Then we add in hotel expenses. Afterwards, I estimate fuel costs. Honestly, figuring our food budget used to be an afterthought "" when it really deserves to take center stage budget-wise.
The easiest way to save big on vacation dining is eating breakfast and lunch in "" rather than out. I understand that there's an entertainment value to eating out and it can be more convenient to have someone prepare a sandwich for you "" rather than make your own. Ask yourself, however, if eating all three meals out is a good use of your vacation budget. Could you enjoy one meal out per day and use your saved money for more activities or another vacation?
If you want the most bang for your buck this spring break, I'd recommend that you pack your breakfast and lunches or consider packing your coupons! Your Sunday paper includes so many high-value coupons, which can really come in handy if you are travelling about. You can check out grocery store ads ahead of time from home "" to find out what's on sale at your destination. Just be aware of sale start and end dates. As always, you are looking for the best sale and coupon matches on your breakfast and lunch items. A little planning ahead can mean getting everything for 50% off or better.
For that one meal that you do eat out, I'd recommend using Restaurant.com, Groupon, Living Social, or dozens of other such daily deal sites. I was tired of wading through dozens of emails from all the daily deal sites each day "" so I developed a free daily deal watcher that you can use right now at: SavingsAngel.com/deal. It allows you to quickly scan every daily deal in nearly every major city in the United States and Canada.
I'd much rather you use daily deal for your family's dining than strolling in off the street hoping for a great deal. With a great discount, you can count on dining at 50% off or better. This could mean another $25 in your purse or wallet each day.
What will you do with nearly $100 saved each day? It might mean another vacation. It might mean being able to add in some extra attractions. My kids recently spent all afternoon having a blast at a children's museum for the same cost as lunch may have cost had we eaten out. Thanks to some prior planning, we felt like we were able to get more value while away.
Whether you're able to get away for spring break or when summer hits, my hope for you is that you'll include some strategic meal planning into your vacation designs.
Couponers save hundreds of dollars every month at the grocery store. However, some couponers can end up living very extreme lifestyles to get those savings. For over five years, SavingsAngel.com has equalized the playing field "" giving huge savings to busy families who don't have the time or ability to be an full-time couponer. Each week, SavingsAngel.com's team of more than 70 angels combines over 2,000 products on sale at local grocery and drug stores with an enormous database of over 2,000 different manufacturer coupons. These combinations result in our members getting access to over 300 products each week for 50% off or better. Simply log in, choose the deals you want, print or clip only the coupons you need, and save hundreds of dollars a month at regional and national stores. Our angels will personally work with you to craft a plan that will help you buy healthier food at lower prices "" helping you keep $200 to $400 in savings each month.
Josh Elledge is the Chief Executive "Angel" of SavingsAngel, Inc. "" launched from his Holland, Michigan home in January 2007. A husband and father of three, he now appears each week on television, syndicated in newspapers, and on a number of radio stations across the country teaching families how to cut their grocery bill in half using the Internet. Elledge created the technology found on SavingsAngel.com through the need to save his own family's money. Successfully able to cut his own grocery bill from $600 a month to less than $300 a month, his message has reached hundreds of thousands of families. SavingsAngel.com is now growing rapidly throughout the country. You can watch a short video athttp://SavingsAngel.com that will explain more information about how to cut your own grocery bill in half with the help of SavingsAngel.com!
This month, you can try SavingsAngel for just $5. We guarantee your success.Click here to learn more and start saving hundreds each month.