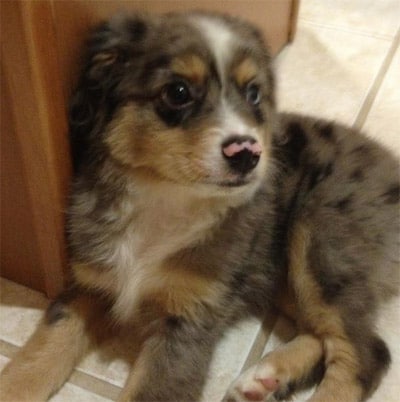 You can mark me as an animal lover. Like many Americans, I've always had cats or dogs. Our dear family friend of 13 years, Meeka, (a Border Collie / Spaniel mixed breed) passed two months ago and my whole family has been heart broken. This weekend, we opened our home to a precious puppy (a Mini Aussie named Levi) and those tender feelings of pet ownership are returning. It will take a while to build our relationship together "" but I'm eager to give all my love.
We're re-familiarizing ourselves with what it takes to care for a puppy; from all the veterinary care to potty training to learning about puppy health and diet. While the first year can be double the expense for pet ownership, most dog owners eventually settle on a budget that can range anywhere from $600 to $3000 a year to care for their dear friend. That range depends on the size and age of the dog, your lifestyle, and the health and individual needs of your pet.
Veterinary care can be one of the largest expenses with medications for everything from fleas to heartworm to more specific medications for your pet's ailments. It is possible to purchase medications through online pharmacies and save yourself a good deal of money. While critics may warn about the dangers of buying medications online, this is a particularly important option for families who might not otherwise be able to afford the medications their pet needs.
There are only 16 online pharmacies that are registered with the National Association of Boards of Pharmacy. This association reviews the pharmacy's practices to ensure they are compliant with all proper requirements.
While not completely fail-safe, experts I've listened to urge owners who wish to buy medications online to make sure they are doing business only with these sites. You can find the list here: http://sa2.me/petmeds.
One option that might be a possibility is to ask your vet if she or he will match the pricing of an Internet retailer. Our vet has given us a nominal discount or recommended a rebate that was otherwise unknown when we've asked.
I'm not in the animal health care advice business, but speaking as a consumer advocate, I would urge you to talk with your vet regarding money saving options to ensure that you can always give your animals the treatment they need.
The second area that you can possibly save yourself a good deal of money is pet food. There are many options available for feeding your pet. Some owners opt for economy varieties. Economy varieties include Alpo, Beneful, Hill's Science Diet, Kibbles "˜n Bits, and Purina. There are manufacturer coupons aplenty, which can add to the savings. In our database at SavingsAngel.com, we regularly see these brands for 50-70% off retail prices. Getting deals like this involve timing your purchase and applying a high-value coupon at the same time.
Obviously, these brands are inexpensive by comparison, but can contain a large amount of filler like wheat, corn and soy. It's important that you review the labels and talk to your vet to discuss your pet's needs.
You can also choose premium brands like Iams, Eukanuba, and some varieties of Hill's Science Diet. Large corporations own all these brands now (Procter & Gamble, Colgate-Palmolive). This is helpful from the standpoint in that coupons are available for budget-minded shoppers. Iams and Hill's, for example, recently published a $3 coupon that can make for some very good savings. Hill's is also offering a $12.99 rebate on selected varieties.
Beyond Premium brands, you can also go Holistic / Organic or even make your own dog food. (Search Homemade or Raw Dog Food to learn more).
When purchasing, make sure to read the label. There are four things you want to look for.
1. The guaranteed analysis. (How much fat & protein in the food.
2. The nutritional adequacy statement
3. The ingredients (avoid foods with too much filler.)
4. The feeding guidelines
One website that you might find very useful in choosing a pet food is www.dogfoodadvisor.com. This website is also very helpful in tracking pet food recalls. Sadly, recalls of pet food are fairly common.
If you own a larger breed dog, you may find that more expensive varieties are outside your budget (unless you are using your coupons!) This makes it very important to talk to your vet to talk about what ingredients to look for. Your vet may also be able to give you some ideas regarding supplementing your dog's nutrition.
Regardless of what you ultimately choose for your pet's health care and diet, very few pet owners would state the expense is not worth the rewards from the love a pet gives. With a bit of effort, however, you can keep 100% of the love, for a fraction of the cost.
Extreme couponers save hundreds of dollars every month at the grocery store. However, extreme couponers can end up living very extreme lifestyles to get those savings. For over five years, SavingsAngel.com has equalized the playing field "" giving extreme savings to busy families who don't have the time or ability to be an extreme couponer. Each week, SavingsAngel.com's team of more than 70 angels combines over 2,000 products on sale at local grocery and drug stores with an enormous database of over 2,000 different manufacturer coupons. These combinations result in our members getting access to over 300 products each week for 50% off or better. Simply log in, choose the deals you want, print or clip only the coupons you need, and save hundreds of dollars a month at regional and national stores. Our angels will personally work with you to craft a plan that will help you buy healthier food at lower prices "" helping you keep $200 to $400 in savings each month.
Josh Elledge is the Chief Executive "Angel" of SavingsAngel, Inc. "" launched from his basement in January 2007. A husband and father of three, he now appears every week on television, in his syndicated newspaper column, and a number of radio stations across the country teaching families how to cut their grocery bill in half using the Internet. Elledge created the technology found on SavingsAngel.com through the need to save his own family's money. Successfully able to cut his own grocery bill from $600 a month to less than $300 a month, his message has reached hundreds of thousands of families. SavingsAngel.com is now growing rapidly throughout the country. You can watch a short video at SavingsAngel.com that will explain more information about how to cut your own grocery bill in half with the help of SavingsAngel.com.