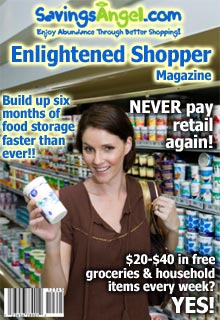 I enjoy being able to work with families to help them find groceries for 50%-70% off. When I do show folks how to get these products, I generally ask how many they'd like to buy. Most people are savvy enough to answer, "as much as I can use before they expire." I love hearing this as this means they are building a safety net for their family – ensuring that they can avoid paying retail for that product over the next few months.
A great example was a breakfast cereal I was able to buy for $1 a box. This was approximately 75% off the regular retail price – which means I saved $3 a box. I purchased six boxes; essentially pocketing $18 compared to paying full retail for this product. This method of shopping carried out over nearly every product line you buy means you are soon saving many hundreds of dollars each month.

I regularly hear the question, however, as to when someone should stock up on certain products. We have a fabulous community at SavingsAngel.com and one of our Angels on Staff, Michelle (aka grnmom) maintains a list of stock up prices on some popular products. Once you have a nice pantry at home, I would also consider these to be the highest prices you should ever pay for these products. If you aren't actively shopping with your Sunday coupons, prepared to be amazed as you're about to see how you've been losing hundreds of dollars a month.

Cereal- Any Under $1, Under $1.50 for Large Sizes and Under $1.25 for Post/Quaker and Healthy/Organic Cereals.

Oatmeal- Under $1.50 for Instant, Under $1 for Whole Oats.

Ketchup- Under $1 for 24 oz.

Mustard- Under $0.75 for 12 oz.

Barbeque Sauce- Under $0.50 per bottle.

Spaghetti Sauce- Under $1 per jar.

Pasta / Noodles- Under $0.50 per pkg.

Canned Vegetables- Under $0.50.

Canned Tomatoes- Under $0.50.

Tomato Sauce- Under $0.50 for 14 oz or Under $0.25 for 8 oz.

Juice- Under $1.25 per 64 oz for 100% Juice. Under $0.75 per 64 oz for Cocktails.

Cheese- Under $0.50 for shredded 8 oz. Under $1 for sliced 12 oz. Under $1 for chunk 8 oz.

Refrigerated Biscuits- Under $0.50. – (You can bake these and then freeze them for later use.)

Refrigerated Crescent Rolls- Under $0.50.- (You can bake these and freeze them for later use)

Frozen Veggies- Under $0.50.

Snack Crackers- Under $1.

Chips- Under $1.25 for a regular size bag.

Popcorn- Under $1 for 3-4 ct.

Hot Dogs- Under $0.75 per pkg.

Lunch Meat- Under $1 per pound. They usually come in 12 oz pkgs, so Under $0.75 each.

Bread- Under $1 per loaf.

Buns- Under $0.55 per pkg.

Laundry Soap- Under $1 per 50 oz.

Fabric Softener/Sheets- Under $1 per pkg/btl.

Dish Soap- Under $0.50 for 8-10 oz btl.

Dishwasher Detergent- Under $0.50 per pkg.

Syrup (Aunt Jemima) – $1.00 for 24 oz

Diapers – less than $3.00 for Jumbo pk- Because Diapers have gone up by 33% in the last few months, my Stock Up Price is $5 per Jumbo Pack….

Bandages – $1/box

Toll House Morsels – $1.25 or less for 12 oz

Tampons (incl Tampax Pearl) – $1.00 for ~20 ct

Toilet Paper – $3.50 for 12 dbl rolls

Facial Tissues – $0.90 for 200 ct box

Paper Towels – $3.50 for 8 rolls

Campbells Condensed Soup (Tomato & Chicken Noodle) – $0.40/can

Ready to Serve Soup – $0.50/can

Yogurt – $0.25/6 oz cup

Danimals – $1.00

Items I Never Pay For (Unless I really want to)

Toothpaste
Deodorant
Body Wash
Toothbrushes
Hair Styling Products
Lotion
Cat Treats
Maxi Pads
Pantyliners
Men's Razors
Disposable Razors
The easiest way to cut your grocery bill in half is through using manufacturers coupons combined with the best sales at local stores. Normally, this takes a lot of work to create a winning shopping list for your family. Each week, SavingsAngel.com combines over 2,000 products on sale at local grocery and drug stores with their enormous database of manufacturer coupons "" which are found in Sunday's paper and throughout the Internet. This combination results in access to over 300 products each week for 50% off or better. Here are a few examples of deals that are available until Saturday at midnight. Please check out blog @SavingsAngel.com/blog each week for tips on how you can easily start cutting your grocery bill!
Josh Elledge (husband, and father of three) is the Chief Executive "Angel" of SavingsAngel, Inc. "" launched from his home in January 2007. A husband and father of three, he now appears each week on television, in newspapers, and a number of radio stations across the country teaching families how to cut their grocery bill in half using the Internet. Elledge created the technology found on SavingsAngel.com through the need to save his own family's money. Successfully able to cut his own grocery bill from $600 a month to less than $300 a month, his message has reached hundreds of thousands of families. SavingsAngel.com is now growing rapidly throughout the country. You can watch a short video athttp://SavingsAngel.com that will explain more information about how to cut your own grocery bill in half with the help of SavingsAngel.com!