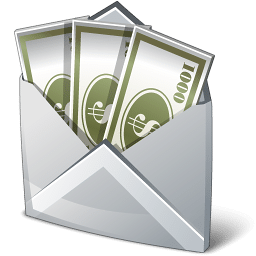 Think of the last time you bought something intending to fill out the rebate slip, mail your receipt, and wait for the check. Did you do it? Your personality type is probably a good indication of whether you should ever get lured into opportunity to buy something that involves a rebate. The sad reality is that a small percentage of rebates are ever redeemed – particularly on smaller-ticket items.
Over $500 million dollars in rebates go unclaimed each year. Manufacturers and
retailers are fully aware of this – which allows them to make such generous offers to begin with. Redemption rates are never 100% – so there is a tremendous opportunity to increase profits on sales.

Manufacturers and retailers love the effect that rebates have. According to the Promotion Marketing Association, consumers are 75.4% more likely to buy a product when it carries a cash-back rebate.

For example, in 2005, nearly half of the 100,000 new TiVo subscribers did not redeem their $100 rebates, allowing the company to keep $5 million dollars in additional profit. TiVo noted that rebate redemption is lower during Christmastime due to customers being a bit too distracted to fill out rebates on time.

In response to consumer complaints, some retailers and manufacturers have made it easier to receive money-back for purchases. Office retailer Staples allows what it calls "Easy Rebates" at its website. RiteAid also allows online submission of their rebate offers.

Another method of receiving value back after purchase involves immediately receiving a gift card or coupon good for a dollar amount toward your next purchase. These are dispensed at the register with no stamps or envelope licking necessary. This sales strategy is common at Target, Walgreens, CVS, and Kohl's. As easy as this offer may be, redemption rates are nowhere near 100% and this means higher profits and increased sales for the retailer.

Still, for many manufacturer offers on consumables like food or household products, traditional rebates are plentiful. It's a well known fact that traditional rebates for
amounts of ten dollars or less carry a single digit redemption rate. Each week, we index thousands of deals at local grocery stores at SavingsAngel.com and yes… there are always opportunities for money back via rebates if you are meticulous about getting your money. There are 36 different deals you can get this week with rebates.

Some argue that rebates are a tax on those who are disorganized or procrastinate. I'd like to share some ideas to help you avoid this tax.

1. If you have a bad track record for redeeming rebates, avoid them – or make your purchase independent of the rebate offer. While I teach the value of being a little bit methodical in order to save big money on purchases, I'm also a realist. Smart coupon shopping can earn you $20-$60 an hour for your time. As good as that is, some people will simply refuse to shop smart because it's not what they are used to and they are truly unwilling to change. If someone is the type that simply never fulfills rebate offers, they shouldn't get sucked into the hype thinking that they "might do it this time." I recommend either committing to the next four steps or avoid the rebate game altogether.

2. Understand the offer before you purchase. This includes reading all the fine print. Understanding the terms of the rebate will prepare you for what you have to do. When you visualize yourself taking the steps necessary to redeem your money back, you are far more likely to actually do it. As well, you are much less prone to errors – such as accidentally throwing away the packaging or receipt, or waiting too long beyond the eligibility date.

3. If you make a purchase that involves a rebate, immediately make a note on the reciept, ensure you've got the proper forms, and do NOT allow these items to get lost on your
desk, or get filed. I recommend placing them somewhere extremely conspicuous until you follow through. Tape the receipt on your bathroom mirror if you have to. Studies have found that consumers who were given a longer period of time to redeem a rebate were less likely to redeem it. If you wait, you are less likely to follow through. If you wait too long, the offer will expire.

4. For higher value rebates, mail your documentation via certified mail and get a return receipt. This will eliminate the argument from the manufacturer that they never received your rebate request.

5. Keep a folder of all rebate offers you've sent in for – including photocopies of everything such as details of the offer, receipts and UPCs, and contact information for the rebate clearinghouse. Sadly, some states' attorneys general have had to go after rebate clearinghouses for not fulfilling their obligation to actually send the check to the consumer. It happens. If you have documentation, you'll be better prepared if your check doesn't arrive within the time stated.

Having shared all this, if you're like many SavingsAngel.com fans, you've got your shopping down to a system that allows you to earn and save money where many other people won't. It's because of the low redemption rates of coupons and rebates that allow active shoppers to get such fantastic deals on the things they buy on a regular basis.
This month, you can try SavingsAngel for just $2.50 a week. Weguaranteeyour success.Click here to learn more and start saving hundreds each month.
The easiest way to cut your grocery bill in half is through using manufacturers coupons combined with the best sales at local stores. Normally, this takes a lot of work to create a winning shopping list for your family. Each week, SavingsAngel.com combines over 2,000 products on sale at local grocery and drug stores with their enormous database of manufacturer coupons "" which are found in Sunday's newspaper and throughout the Internet. This combination results in access to over 300 products each week for 50% off or better. Here are a few examples of deals that are available until Saturday at midnight. Please look read our blog each week for tips on how you can easily start cutting your grocery bill!
Josh Elledge is the Chief Executive "Angel" of SavingsAngel, Inc. "" launched from his home in January 2007. A husband and father of three, he now appears each week on Fox 35 Orlando, in the Grand Rapids Press, and a number of radio stations across the country each week teaching families how to cut their grocery bill in half using the Internet. Elledge created the technology found on SavingsAngel.com through the need to save his own family's money. Successfully able to cut his own grocery bill from $600 a month to less than $300 a month, his message has reached hundreds of thousands of families. SavingsAngel.com is now growing rapidly throughout the country. You can watch a short video at SavingsAngel.com that will explain more information about how to cut your own grocery bill in half with the help of SavingsAngel.com.