Altogether, last night, I got $170.64 in groceries and spent $24.38.  This is an 86% savings.  See scans of my receipts at the bottom of this post.
=============
Catch SavingsAngel LIVE!!
I'll be presenting at the Southern Women's Show at the Orlando Convention Center

Thursday, Oct. 14 – 1:30pm
Saturday, Oct. 16 – 1:30 pm
=============
DON'T GO GROCERY SHOPPING UNTIL YOU WATCH THIS VIDEO

Want Groceries for free?  Use Multiple coupons and discounts!

One of the most surprising things people learn when they start shopping with SavingsAngel is that they can apply more than one coupon on a single product.  Although this concept is a bit confusing at first, it helps to understand the different categories of discounts.
1. Store Sales
Usually listed in a store's weekly ad.
2. Manufacturer Coupons
Most are available in Sunday's Grand Rapids Press or online.  However, you find coupons just about anywhere.
3. Store Coupons
Usually listed in a store's weekly ad or monthly coupon flyer/book.
4. Register Rewards / Extra Care Bucks / Catalinas
Coupons that print out at the register worth money off your next transaction at that store.
5. Manufacturer Rebates
Various locations.  Usually involves mailing your receipt and a small filled-out form in exchange for a check for the full purchase price of a product several weeks later.
6. Store Rebates
More often than manufacturer rebates, you can receive money back by entering your receipt and personal information online.
7. Other promotions / incentives
Receive discounts on other products for your purchases.  (e.g. buy $25 of a product line and get $10 off a new DVD)
You can only use one discount per available discount category on a product. Exceptions are very rare.  For example, you cannot use two .50 manufacturer coupons on the same item.  It will say "One coupon per purchase."  You can, however, buy two items with two separate manufacturer coupons.
The secret to big savings: 'stacking' from the different discount categories on the same product! Just last week, I "purchased" two Pledge products for free.  Normally $4, it was on sale for Buy 1 Get 1 Free ($2 each).  I also used a store coupon for $2 on 2 off.  Finally, I had manufacturer coupon for another $2 on 2 off.  Because the discounts were all from different discount categories, I was able to use all of them at the same time resulting in free groceries. You can watch a video of me getting this product for free (along with some other amazing coupon/sale combinations) at http://sa2.me/video.
Once you are an "Enlightened Shopper," a sale plus a coupon will be the baseline that you will build from.  Most weeks at drugstores like CVS and Walgreens, I can get several free items as I apply my manufacturer coupons with a store coupon or store sale and get cash back at the register in the form of a Register Reward or Extra Care Bucks.
Finding and applying multiple discounts can take a little bit of time to arrange.  But, when you are turning your coupons into free food and household products for your family, you'll find it well worth the effort.
The easiest way to cut your grocery bill in half is through using manufacturer coupons combined with the best sales at Central Florida stores.  Normally, this takes a lot of work to create a winning shopping list for your family.  Each week, SavingsAngel.com combines over 2,000 products on sale at local grocery and drug stores with their enormous database of manufacturer coupons – which are found in Sunday's news paper and throughout the Internet.  This combination results in access to over 300 products each week for 50% off or better.  Here are a few examples of deals that are available until Saturday at midnight.  Please watch Fox 35 each Tuesday at 8:45 and 9:45 for tips on how you can easily start cutting your own grocery bill.
. . .
Josh Elledge is the Chief Executive "Angel" of SavingsAngel, Inc. – launched from his home in January 2007. A husband and father of three, he now appears each week on Fox 35 Orlando and on a number of local radio stations teaching families how to cut their grocery bill in half using the Internet. Elledge created the technology found on SavingsAngel.com through the need to save his own family's money. Successfully able to cut his own grocery bill from $600 a month to less than $300 a month, his message has reached hundreds of thousands of families. SavingsAngel.com is now growing rapidly throughout the country. You can watch a short video at SavingsAngel.com that will explain more information about how to cut your own grocery bill in half with the help of SavingsAngel.com.
WalMart


Reach Dental Floss 55 yds
USE THIS ONLINE COUPON: $1 SavingsAngel.com/coupons OR GRAB THE $1 COUPON FROM THE (Red Plum coupon insert from October 10th.  Look for the 55 yard floss.  It's FREE!   (You should be able to print two coupons from each computer).

Retail: $0.97
FINAL PRICE: FREE
100%
SAVINGS
WalMart


Gain Dish Liquid 11 oz
Use the $1 coupon that just came out in the P&G coupon insert from October 10th on the SMALLER size bottle.  You'll get it for free @ WalMart.

Retail: $0.97
FINAL PRICE: FREE
100%
SAVINGS

CVS


Colgate Toothpaste Total Enamel Strength 4 oz
Print this coupon for Colgate Total: .75 colgate.com, Or use the $1 coupon from this past weekend (October 10th) SmartSource Coupon Insert.  You'll also get $2.99 in Extra Care Bucks back at the register – even though you spent $1.99 for this product.  You made $1 PROFIT!

Retail: $3.89


Sale: $2.99


FINAL PRICE: FREE +$1
126%
SAVINGS
Publix


Athenos Crumbled Feta Cheese Traditional, Garlic & Herb or Basil & Tomato or Reduced Fat Traditional or Basil & Tomato 3.5 or 4 oz cup   (B1G1F) PLUS

$1 (SmartSource October 10th)

$2.49


$1.25


$0.25
$2.24
90%
Publix

$3.39


$2.00


$1.00
$2.39
71%
CVS


Purex Complete 3 in 1 Laundry Sheets 20 ct   (B1G1F) PLUS

$1 purex.com, $3 (RedPlum October 10th)

$7.49


$3.25


$0.25
$1.00
$28.96
97%
WalMart

$0.97


$0.97


FREE
.97
100%
Altogether, Monday night, I got $170.64 in groceries and spent $24.38.  This is an 86% savings.
Walgreens:
Retail: 85.34
Spent: 14.63 (after Register Rewards)
Publix:
Retail: 32.40
Spent: 8.12
CVS:
Retail: 39.42
Spent: 1.39
WalMart:
Retail: $13.48
Spent: .24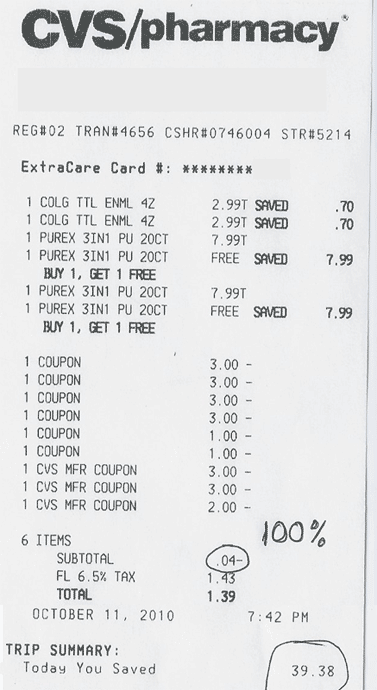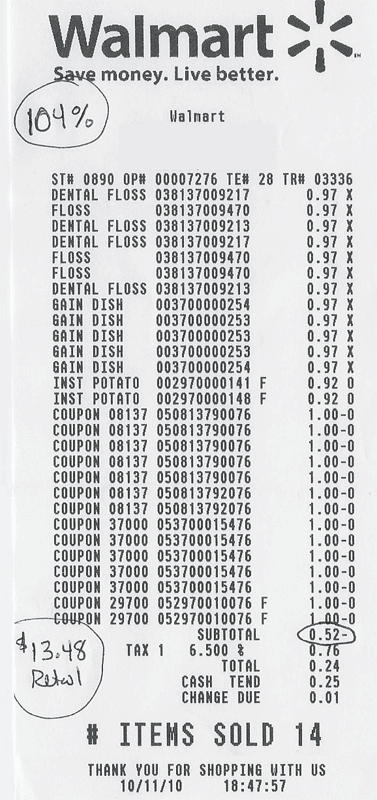 DON'T GO GROCERY SHOPPING UNTIL YOU WATCH THIS VIDEO