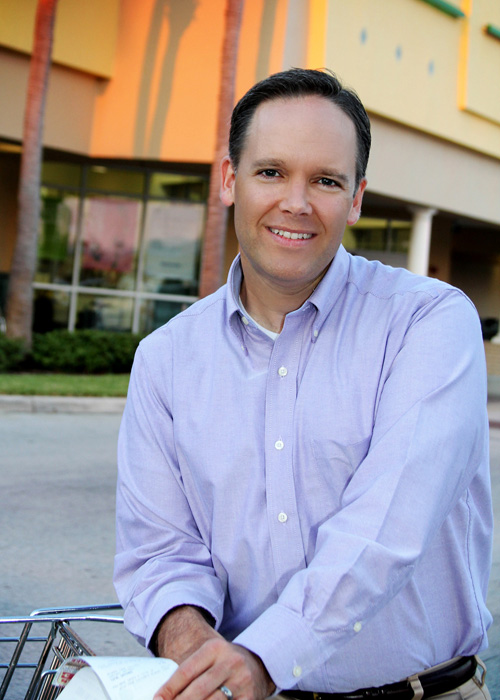 Josh Elledge is the Chief Executive "Angel" of SavingsAngel, Inc. – launched from his basement in January 2007. A husband and father of three, he now appears each week on television, syndicated in newspapers, and on a number of radio stations across the country teaching families how to cut their grocery bill in half using the Internet. Elledge created the technology found on SavingsAngel.com through the need to save his own family's money. Successfully able to cut his own grocery bill from $600 a month to less than $300 a month, his message has reached hundreds of thousands of families across the country.
SavingsAngel, Inc. is a very focused, mission-driven company which will help you cut your grocery bill in half using Internet grocery coupons.
Consumer debt is at an all-time high. American families are in bondage today as a result. More than 70% of households are living paycheck to paycheck - struggling to get ahead.
We all know what to do to get ahead: earn more than you spend! The problem is - being able to actually pay the bills that are due (so you can get ahead) can feel impossible at times. Most bankruptcy filers state that if they simply had an extra $200 a month, they could have avoided the ordeal.
Whether you need more money - or you would simply like to spend less, we've found that way for you to instantly earn the equivalent of a $3000 - $4000 a year pay raise and we are tickled about it! It's about as close to finding free money as we can come up with!
The average family of four spends $6463 a year on groceries. What if you could keep half of that money? Using our system, You CAN! We offer a fully stocked database of Internet grocery coupons for local grocery stores and drug stores you can easily print from your computer right at home.
Tell me more about SavingsAngel, Inc.
Extreme couponers save hundreds of dollars every month at their local grocery & drug store. However, extreme couponers can end up living very extreme lifestyles to get those grocery savings. For over five years, SavingsAngel.com has equalized the playing field – giving extreme grocery savings to busy families who don't have the time or ability to be an extreme couponer. Each week, SavingsAngel.com's team of more than 70 angels combines over 2,000 products on sale at local grocery and drug stores with an enormous database of over 2,000 different food manufacturer coupons. These combinations result in our members getting access to over 300 grocery products each week for 50% off or better creating amazing savings with grocery coupons. Simply log in, choose the grocery deals and discounts you want, print or clip only the coupons you need, and save hundreds of dollars a month at regional and national stores. Our angels will personally work with you to craft a plan that will help you buy healthier food at lower prices – helping you keep $200 to $400 in savings each month.
Our mission...
We commit to assist you to:
Cut your grocery bill in half through Enlightened Shopping®
Build up a food storage & emergency savings
Become debt-free!
Give more than you've ever given to the things you really believe in.
Why the name "SavingsAngel?"
Simple. We believe in angels. We refer to both the visible and invisible ones. Our vision is to empower the visible ones (our members) to assist others through their own personal savings. If you are struggling with not enough money, we want you to feel a bit of relief!! With more money in your monthly budget, you will truly be able to redirect that money to causes that you really believe in - not credit card interest!
We believe that we can assist in abolishing consumer debt in the United States.
We believe that we can assist in ending hunger domestically and globally.


While we are currently a droplet of water in a desert of "lack," we feel it's too late to stop the flow of this momentum in our journey to fulfill our mission.
Are you affiliated with any particular church or organization?
Although we have partnered with MANY churches and non profit organizations, we are completely non-affiliated with any particular entity. We're just committed to solid principles of "loving your neighbor along with oneself."